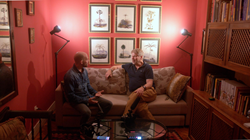 We are excited to add our perspective to this collective wisdom in order to help vacation rental managers.
PORTLAND, Ore. (PRWEB) December 12, 2018
Matt Landau, vacation rental thought-leader and host of A Sense of Place, the world's first vacation-rental themed travel show, today announced the launch of Season 2 of his podcast series Unlocked. The 15-episode season, sponsored by PointCentral, takes listeners around the world — from hotel lobbies in Phoenix, Arizona to beachfront bungalows in Bali, Indonesia — to meet the minds of some of today's most innovative vacation rental businesses.
Each episode introduces one vacation rental pioneer and aims to dive deep into one specific topic, best practice, or innovation that has altered their course for success, changing the playing field for listeners involved. Staying true to the diverse nature of the vacation rental movement, episode themes range from technology to regulation to marketing to cleaning — all structured around action items intended to be replicated by listeners and scaled.
"Since our inception over 7 years ago, PointCentral has focused on how to bring IoT hardware and software together into a business-focused solution that allows vacation rental managers to both be more efficient and deliver the experience that guests want," explains Sean Miller, president of PointCentral. "Matt has always been a champion of 'collective wisdom' — that good information, when shared, creates better outcomes for us all - and we are excited to add our perspective to this collective wisdom in order to help vacation rental managers focus their limited resources on the high-value activities they need to do, and allowing automation to handle as many of the lower-value tasks as possible."
According to Luis Gil, the podcast's producer, Season 2 of Unlocked builds on important lessons from Season 1. "When looking at our analytics, we noticed that the most popular episodes were shorter in length — likely because our listeners are busy running their small businesses. And when pouring over feedback and reviews, we observed that people loved actionable insight and things they could implement immediately. So together with Matt, we decided to double-down on both of those elements making for more pointed and impactful episodes. PointCentral is a company that unlocks things and makes vacation rental businesses better, so in this partnership, we are definitely both singing the same song."
'Unlocked' season two episodes will be released weekly for 15 weeks. Below is a summary of the first two episodes this season.
Episode 1: Meet Bernardo Retana of Otium Residences in Marbella, Spain. With a background in hospitality and finance, Bernardo has impeccably high standards when it comes to customer service from the moment of contact through arrival, departure, and beyond. In this interview, Bernardo shares the powerful and perhaps limitless uses of a simple smartphone app his entire organization now uses to ensure every single guest has a VIP experience.
Episode 2: Lawrie Lawrence of Stay Lake Norman in North Carolina comes from the world of real estate, which explains why his vacation rentals are lake front and center. But everyone knows the value of location. In this episode, Lawrie shares a totally unexpected tactical investment in recreational amenities -- one that floated his brand to the top of all lakefront competition.
To listen to Unlocked, simply subscribe or download on Apple Podcasts, or your favorite podcasting app. To learn more, please visit: https://www.vrmb.com/unlocked-podcast/ or http://www.pointcentral.com/vrmb/
About PointCentral
PointCentral, a subsidiary of Alarm.com (Nasdaq: ALRM), provides short and long-term property managers of single-family and multi-family assets with an enterprise-class solution that monitors and controls Smart Home technology across all properties in their inventory over a best-in-class secure and reliable cellular network – increasing property awareness, reducing operational costs and improving resident satisfaction. PointCentral's solutions allow property managers to realize operational efficiencies, enhancing the asset for guests and residents. For more information, please visit http://www.PointCentral.com.