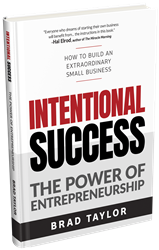 "The insights in Intentional Success for running a successful business are priceless."—Chris Widener, New York Times Bestselling Author
EL DORADO HILLS, Calif. (PRWEB) January 24, 2019
In Intentional Success: The Power of Entrepreneurship (Made for Success Publishing, January 2019, $23.00 hardcover, $17.00 paperback), experienced media & marketing entrepreneur Brad Taylor, delivers a book that is both informative and insightful. Written for the aspiring entrepreneur, business professional, dreamer and doer, and taken from actual life lessons from Brad and his wife Cathy and their journey as entrepreneurs, the book provides a real-world viewpoint on what it takes to succeed as an entrepreneur.
Designed to help readers by giving an overview of the typical struggles aspiring business owners encounter when starting, managing, growing, and maintaining a successful venture, the book features a formula for success that embraces the key tenants of Belief, Persistence, Sales, Time Management, Goal Setting and Leadership while offering instruction on how to build an extraordinary small business.
Brad and Cathy have found success by adopting "the twelve intangibles", featured throughout the book. These twelve intangibles will help you become a better leader and in turn, lead you to your professional and personal purpose.
Intentional Success is making the choice to take positive steps that will enable you to change your life…forever. It is making difficult decisions that will direct how your personal, professional, and family life will be defined.
This book is for you if:

You've dreamed of starting a business, but fear leaving the safety of your current job.
You've stayed on the sidelines and watched other business owners skyrocket.
You're already running a business, but want to make sure you're a success and not a statistic.
You already work with your spouse or are thinking about working with your spouse.
Brad's premiere book-signing will be at the Barnes & Noble in Folsom, California, on Friday, Feb. 1st @ 6:30 p.m.
For further information on Brad & Cathy and upcoming appearances, visit http://www.TheBradTaylor.com and
follow Brad on social media at LinkedIn, Instagram and Facebook