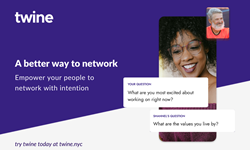 SAN FRANCISCO (PRWEB) December 09, 2020
A team from pioneering event technology company DoubleDutch, has today launched a new product called twine – a platform for deep networking designed for remote teams and virtual events. The product is free for groups of 30 or fewer, and can be configured and launched on a self serve basis direct from the company's website (twine.nyc).
twine was founded by veterans of DoubleDutch, a leading event technology company which amassed thousands of customers before being acquired by Cvent in 2019.
"The founding team of twine has been obsessing about how to engineer serendipity for years," says twine co-founder and CEO Lawrence Coburn. "twine is our best effort to enable any virtual event or remote team to quickly and efficiently spark and strengthen meaningful relationships among their community, via the power of one to one conversation."
The twine experience delivers "deep networking" via several key components; a customizable library of conversation starters, a proprietary matching algorithm, a flexible "opening act" delivered via video, configurable conversation settings, and an asynchronous video messenger to allow new connections to blossom. All key functionality is available on a self-serve basis via a suite of publishing tools located at twine.nyc. The product is available on web browsers and on iOS.
"Deep Networking is the polar opposite of traditional networking," says twine co-founder and Chief Experience Officer Diana Rau. "It is not transactional, not superficial, not about 'what I can get from you.' Deep Networking is about understanding the whole human, asking "what can I learn? How can I help?'"
Seasoned event tech leaders see immense potential in twine's deep networking capabilities. From Tahira Endean, Head of Events at SITE Global: "twine sets the stage for deeper connections in shorter time frames by creating a safe space for talking about big topics, not just where you are from or what you do. In the currently evolving climate of work and what matters in life surrounding people everywhere combined with a pressing need for human connection weighing on many of us, Twine offers a welcome warmth to the digital networking space that is critical now and will remain important for a forever changed future."
The company also announced new funding from Coelius Capital, who joins pre seed investors including Hinge Capital, FJ Labs, Brand Foundry, Bragiel Brothers, April Underwood, and more. The company has raised $1.75M in funding to date.
About twine: Founded in October, 2019, twine is a platform for deep networking designed for virtual events and remote teams.