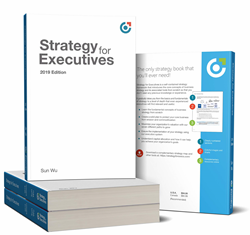 WILMINGTON, Del. (PRWEB) March 28, 2019
"Strategy for Executives" introduces business strategy's core concepts and ideas from scratch so you don't need any previous knowledge or experience.
"For years executives have been bombarded with conflicting ideas about what makes a good strategy. This book solves that problem. It provides a unified strategy framework based on the ideas that have proven to work," says author Sun Wu.
This new framework is based on Sun Wu's over 15 years of experience working as an executive for two Fortune 500 companies. It's the product of multi-year research led by Sun Wu, where he and his team analyzed the most successful strategy frameworks of the past 40 years, extracted their core ideas and tied them all together into a single product.
"Strategy for Executives" guides executives to build a winning business strategy based on the analysis of multiple successful strategies from the past:

The book begins by presenting the building blocks of strategy and what strategy means today for businesses. Executives will learn the fundamental concepts around profit and how to create it.
The second part of the book introduces strategies that can help companies defend their profits by either differentiating their products or by having lower prices than their competitors.
"From Market to Operations" will help executives understand which operations can remain within a business and which ones should be outsourced.
The third section begins by explaining how businesses can be grown and presents multiple ways to help businesses enter the international market.
"Creating New Products and Services" will help executives improve their products and develop new ones – and possibly create entirely new markets.
The book also explains the importance of the cash disciplines that help executives create profit for their shareholders. Specific guidelines help executives to improve their ability to implement strategies and track performance.
The final chapter "The Human Factor" underlines the importance of the people who make up the company.
The best part about Strategy for Executives? It's free to download here.
"Strategy for Executives" will help driven executives remain competent and relevant in today's hypercompetitive markets. This framework is constantly updated with relevant information and constructive opinions from readers and practitioners from around the world, through the book's communities on Twitter and LinkedIn.
Executives who don't have time to read the whole book will be glad to hear that the framework's core ideas are summarized in a series of articles.
The articles are complemented by a strategy glossary, and by a series of strategy tools. Even better, you can watch a one-hour strategy webinar where the author, Sun Wu, reviews the most important strategy and innovation ideas based on his research.
Those who have problems implementing any of the framework's ideas or want to send feedback, can head to the "Ask Sun Wu a Question" section to contact Sun Wu and his team.
About the Author
Sun Wu is a Fortune 500 executive with more than 15 years of real-life strategy experience. He has led the creation of multiple business units around the world and the development of innovative products for industrial applications. He led the design and development of the first generation of large-scale advanced energy storage products almost a decade before Tesla and others entered the space. Today, he leads the venture capital arm of a large corporation seeking to invest in the agri-food tech industry.
Media Contact:
Email: contact (at) strategyforexecs (dot) com
For physical mail:
Strategy for Executives
4023 Kennett Pike #53757
Wilmington, DE 19807