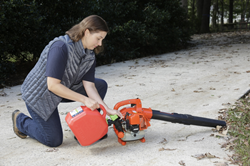 We will continue to meet the demand for inventive products and offerings as we look into the new year and beyond.
MIAMI, Okla. (PRWEB) November 01, 2022
As we quickly approach the holiday season, weather changes are inevitable. With autumn, comes cooler weather and leaf-filled back yards needing attention. When the snow starts to fall, winter sports enthusiasts power up their snowmobiles for a weekend adventure. As the end of the year nears and celebrations trend, handy and thoughtful gifts are at the top of everyone's mind.Scepter® SmartControl® offers its best-in-class can, allowing users to stay fueled up through every weather-changing event.
SmartControl fuel cans are a great option for a standard portable gas can. The ergonomic spout lets users control the flow of gasoline, kerosene, and diesel fuels with just a simple push of a button and removes the concern for spillage.
"We are proud of the unmatched innovation behind the SmartControl product line. We created one, two- and five-gallon offerings to cater to the needs of our loyal customers – homeowners, outdoor enthusiasts, landscapers and military," said Dan Marshall, vice president of marketing and business development for Scepter. "We will continue to meet the demand for inventive products and offerings as we look into the new year and beyond."
With its commitment to keeping costumers safe and knowledgeable, Scepter offers the following "Top Five Tips" to stay safe around fuel prior to each new season.

Be certain your household knows which container to use for what – red for gasoline, blue for kerosene and yellow for diesel
Store fuel containers in a dry, well-ventilated place, outside the living space of your home and away from furnaces, water heaters, direct sunlight, and other sources of heat
Keep children and pets away from fuel pumps, fuel containers, and running equipment
Do not remove or alter the flame mitigation device inside the opening of the fuel container
Place fuel containers on the ground during filling to avoid sparks from static electricity and spills inside the vehicle
Scepter offers innovative SmartControl fuel containers for gasoline, kerosene, and diesel fuels. The rugged SmartControl containers are Made in America and designed to substantially exceed ASTM and CPSC minimum standards. All Scepter portable fuel containers in the United States already include FMDs certified to the ASTM F3326 standard.
For more information, visit scepter.com
About Scepter
Founded in 1949, Scepter is the world leader in intelligent and innovative solutions for the transport and storage of fuel. The company has more than 70 years of making, testing, and advancing the best containers in the world and its innovative products are trusted by homeowners, professionals, and militaries. From the front lawn to the front line, Scepter products are rugged, reliable, and synonymous with best-in-class. For more information, visit scepter.com.