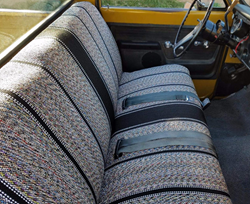 Our extensive selection of truck bench seat covers will be available on the site at our everyday low prices.
(PRWEB) September 13, 2018
Seat Covers Unlimited announced today that it will be offering its stylish and affordable truck seat covers on Amazon Prime. Previously, customers were able to order the truck seat covers through Seat Covers Unlimited's website and select distributors. Now, they have the ease of being able to shop the extension selection of Chevy, Dodge, and Ford truck seat covers, among many others, on the popular retail site.
"We are excited to make our truck seat covers more widely available so that more people can get the styles they want to protect and accessorize their trucks," said Matt Larsen, the eCommerce Manager at Seat Covers Unlimited. "Our extensive selection of truck bench seat covers will be available on the site at our everyday low prices."
Seat Covers Unlimited has the largest selection of truck seat covers available online, including a wide variety of materials, colors, and styles. For example, buyers can get seat covers in waterproof materials, as well as furs, and they can get covers in popular patterns like camouflage and floral in a variety of colors.
Seat covers are available for the popular truck brands like Ford, Chevrolet, and Dodge, as well as most other truck brands. Buyers can search by Chevrolet truck seat covers, Dodge truck seat covers, or other brands to find just what they need.
Amazon Prime customers enjoy free, two-day shipping on the custom truck seat covers. Shipping for Amazon customers is also low, and prices are affordable across the board.
Since customers are ordering items online, they may find that they have a reason to return a product after they receive it. They may decide that a pattern didn't look the way they thought it would in the truck, or they may have accidentally ordered the wrong size. Seat Covers Unlimited allows for fast and free returns for whatever reason.
"Customer satisfaction is our top priority," Larsen said. "Every decision we make for our truck seat covers is made with that in mind, from the quality of the materials we use to the prices we set and the shopping we policies we create."
Seat Covers Unlimited has earned a number of positive reviews both on Amazon and elsewhere online. The reviews speak to the quality of the seat covers and the professionalism of the customer service provided.
More than 20,000 options are offered through the Seat Covers Unlimited store on Amazon. Fewer options are available through Prime, but the retailer plans to expand the offerings over time.
For more information, visit amazon.com and search for Seat Covers Unlimited, or visit http://www.seatcoversunlimited.com or call toll-free at (888) 410-5050.