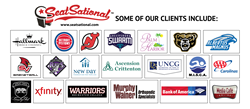 Our team at SeatSational™, LLC is excited to support the team as season ticket holders for the Detroit Piston's. We feel it is important to support all of our Detroit teams. — Gina Hoensheid, Founder of SeatSational
DETROIT (PRWEB) October 17, 2018
SeatSational™, LLC is proud to announce that it has outfitted the Detroit Piston's seats at Little Caesars Arena(LCA) with their SeatSational seat covers, configuring 5,000 new seat covers and 4,000 revised seat covers.
Gina Hoensheid, Founder of SeatSational said she was ecstatic to add LCA to their growing list of clients and is proud to service the Detroit arena. "It's a great feeling as a business owner to be part of the growing economy in Detroit, and especially LCA and the Detroit Pistons."
"Our team at SeatSational is excited to support the team as season ticket holders for the Detroit Pistons. We feel it's important to support all of our Detroit teams," Gina said.
SeatSational seat covers are an engaging and result-oriented approach for sporting arenas, concerts, theaters and other venues. SeatSational, "a perfect seat every time," takes your marketing message from now… to WOW!
Stadium Advertising by SeatSational is the perfect way to brand a sponsor, add value for a client or impress a guest! Full color printing options on front and back, PMS color matching and back pockets are available for endless options for branding your event or venue.
Among SeatSational's list of growing clients are the Detroit Pistons, New Jersey Devils, Oakland University, Rochester College, The Greensboro Swarm, the Budweiser Event Center, and Stony Brook University. SeatSational also believes in giving back, and has donated to New Day Foundation for Families, The Pink Fund, The Believe Foundation and the Granting Grace Foundation… just to name a few. Keep an eye out for SeatSational's continued success!