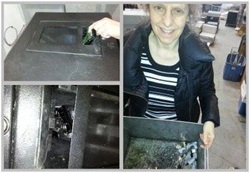 Bojan Paduh from the ERA "We want to help charities and non profits in Seattle and area with free computers and laptops, and other used computer equipment. Equipment that otherwise ends up getting shredded by major recyclers, instead of reused first."
SEATTLE (PRWEB) February 05, 2019
The Electronic Recycling Association (ERA) is approaching their 15th year of reducing
unnecessary electronic waste by reusing technology before it is shredded, land filled or thrown out. Within the last month ERA donated roughly 50 devices back to communities all across Canada including, Calgary, Edmonton, Vancouver, Saskatoon, Winnipeg, Toronto and Montreal.
With services starting in Seattle, USA! ERA wants to give away 200 laptops and 200 computers in the Seattle area. Items also available for charities and non profits include recycled servers, switches, telephones, cell phones, apple tables, and many other electronic devices. Across Canada and USA wealthy companies and individuals routinely throw away perfectly working technology. Technology which, without ERA, would end up in landfills, or shredder by major recyclers, before even being tested for reuse purposed. ERA tests all items received for their reuse potential, and repairs and refurbishes items for donation to charities and non profits.
ERA's mission is to reduce electronic waste and the negative impact it has on our environment, and to reuse unwanted computers and related electronic equipment through recovery, refurbishment and computer donation programs. They will continue to do this and donate to those less fortunate, raising awareness so that other companies, organizations and individuals can stay clear of landfills.
Some of the programs ERA offers to organizations are as follows:

Over the last 15 years, ERA have donated to an insane amount of charitable organizations in need of technology. They ensure that charities and non profit organizations needs are met. Donation requests must be made via application on the website.
ERA are proud to announce that their new phone service is now available to charitable organizations in need. They are offering free VoIP phone service (1-5 phone lines per charity) as an extension of their charitable donation program. Voice over Internet Protocol (VoIP), is a technology that allows you to make voice calls using a broadband Internet connection instead of a regular (or analog) phone line. This service will be at no charge and will offer incoming and outgoing calls Canada/USA-wide.
Volunteering with ERA is a great way to fulfill your community service goals while gaining excellent computer experience. In addition to learning and assisting with ERA's processes and electronic recycling initiatives, volunteers will earn a computer once they have completed their volunteer hours. ERA have duties suitable for almost anyone over the age of 16.
– 30 –
About the Electronic Recycling Association
Established in 2004, ERA is a non-profit organization directed to reduce the environmental impact of improperly-discarded toxic electronic waste by offering accessible services to help corporations and individuals manage their retiring IT assets. Through industry leading pickup, data removal and reporting/certification services, ERA provides a full-circle solution for e-waste management. With reuse being ERA's top priority, every item that is received is examined for any remaining productive life and refurbished for reuse. True end of life items are transferred to accredited recyclers where a nil landfill contribution can be assured. ERA is committed to supporting local charities and individuals in need through the provision of electronic equipment to charities and individuals alike.
Media enquiries may be directed to:
Jessica Lifely
Business Development and Marketing Manager
Electronic Recycling Association