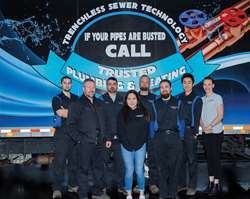 If your home was built in the 1970's or earlier, it was likely built with concrete or clay pipes.
SEATTLE (PRWEB) December 30, 2020
Thanks to COVID-19, homeowners have spent more time in their homes in the last year than anyone can quite remember. With that, they are painfully aware of what needs to be fixed. Trusted Plumbing and Heating, a local family owned plumbing company servicing Seattle and the greater King County area, answers the most frequently asked questions in the plumbing industry with a new free resource for Seattle plumbing.
In the resource, homeowners can find answers to the area's most frequently asked questions such as,

Information about the concrete or clay pipes often seen in homes built in or before the 70's
The fact that most homes in the Seattle area are not equipped for freezing weather conditions
Warnings about the danger a water heater can present if not properly strapped
In addition, Trusted Plumbing and Heating's resource talks about how trenchless sewer repair is a better option than a full trench evacuation, ensuring your home is prepared in the event of a flood.
If a home was built in the 70's or earlier, it's likely it was built with concrete or clay pipes. These pipes present a variety of problems, like breakage and back-ups. To fix this, replace an existing concrete or clay sewer line with a trenchless liner system. The other option would be a full line replacement. To determine the condition of a sewer line, homeowners must have a video inspection done.
Another frequent occurrence in Seattle homes is damaged and leaky pipes, as a result of unpreparedness for freezing temperatures. More often than not, homeowners don't worry about exponentially low temperatures in Western Washington, but when a big freeze comes along, many homes are left with severe damage. Protect a home from harsh weather conditions by keeping the thermostat above 55 degrees, shutting off outside water sources before the cold weather rolls in, and wrapping exposed pipes with insulation materials.
In the event of an earthquake, it's vital to ensure your water heater is properly strapped. In Seattle, earthquakes and other seismic events happen. For protection, make sure the water heater is effectively strapped. Ensure that large appliances in the home is properly secure, to reduce risk of severe damage due to an earthquake.
Unfortunately, older sewer systems can clog and fail. The fastest and most affordable option would be trenchless sewer repair, rather than a full trench excavation. Sewer lining is a more cost effective solution to repair a sewer line, and is less disruptive than a full excavation. First, a video inspection of the line must be done to determine the condition of the line.
The Trusted Plumbing and Heating crew are knowledgeable, reliable and efficient professionals. It's important to take care of the plumbing in your home, and maintain these fixtures as a responsible homeowner. Call Trusted Plumbing and Heating for your plumbing and HVAC needs! (206) 231-5006!