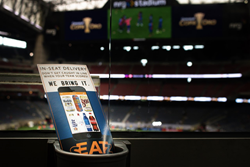 HOUSTON (PRWEB) December 02, 2019
sEATz, a game-changing in-seat delivery app allowing sports and entertainment fans to have concessions and merchandise delivered to their seats, today announced a new partnership with 919 Marketing, an award-winning national franchise marketing and public relations agency.
sEATz Co-Founder, Marshall Law, conceptualized the idea for sEATz while attending Game Three of the 2017 Major League Baseball World Series. Stuck in a concessions line at Minute Maid Park, home of the Houston Astros, he and his sons missed out on a priceless memory when Astros slugger Yuli Gurriel launched a home run directly over their vacated seats.
Realizing his "missing the moment" experience was shared by millions of sports and entertainment fans around the world, he quickly partnered with Co-Founder Aaron Knape to develop sEATz, a breakthrough in-seat delivery app that allows fans to order food, drink and merchandise on their phone and have it delivered to their seats or available at an express pickup line.
Unlike other in-seat delivery applications, sEATz requires no tech integration with a venue's point-of-sale system, no added labor expense for venue operators and no hardware requirements for execution.
With proof of concept already established through partnerships at NRG Stadium, home of the NFL's Houston Texans, Rice University and the University of Houston, sEATz is excited to work with 919 Marketing to expand their service into venues beyond the Bayou City.
"919 Marketing has a terrific track record of taking brands like ours from local awareness to national excitement," Law said. "We're excited to bring them aboard as partners to help us help fans enjoy every minute of the events they pay to see without missing any moments while stuck in a line."
919 Marketing's Founder and CEO, David Chapman, says he and his team are excited to work with sEATz and fully leverage their position in the emerging mobile food ordering and delivery marketplace.
"Our 919 Marketing team of tech gurus, PR powerhouses and sports fans are thrilled to work with such an innovative company," says Chapman. "We will help sEATz revolutionize the sports and entertainment industry with their exciting new mobile app. We will elevate their brand awareness so they expand into new partnerships and venues in Texas and throughout the nation."
For more information about sEATz, please visit http://www.seatzapp.com.
For more information about 919 Marketing, please visit http://919marketing.com/.
About sEATz
Headquartered in Houston, Texas, sEATz is an app-based delivery platform that gives fans access to every product available in an entertainment venue on their smartphone. After downloading the app, fans can select their venue and seat location, browse for food, beverage and merchandise, then order and have their items ready for pickup or delivered to their seats.
About 919 Marketing
Formed in 1996 and headquartered just outside of North Carolina's Research Triangle Park and the capital city of Raleigh, 919 is a national franchise marketing agency with a proven track record of helping companies increase revenue, create a competitive advantage and improve marketing results. 919 provides high-powered strategic planning, public relations, social media, digital marketing, business development support and full creative capabilities — each utilizing proven processes refined over hundreds of client engagements.
919's award-winning staff of marketing strategists, TV and print reporters, and social media trailblazers are seasoned experts, providing customers the content marketing firepower they need to excite, motivate and engage customers and prospects. 919 clients include startups, emerging growth companies and Fortune 500 corporations — from high-tech to health care, hair care and elderly care. 919 Marketing is a proven, go-to source for national companies of all sizes that want to grow their businesses.