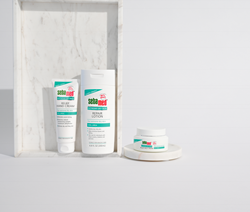 Healthy and glowing skin is within your reach. All you need is this perfectly curated skincare regime with urea included.
IRVINE, Calif (PRWEB) November 27, 2019
Sebamed USA introduces their Extreme Dry Skin Kit with Urea to help those suffering from extreme dry skin disorders. Urea is a natural skin-related ingredient and a humectant that prevents excessive moisture loss. This holy grail ingredient provides intensive hydration to restore moisture balance for consumers with very dry skin.
The Extreme Dry Skin with Urea Kit, with its intensive moisturizing complex, combined with nourishing lipids, can help soothe dry, itchy skin as well as conditions associated with atopic eczema, diabetes, and psoriasis.
This kit includes:

Extreme Dry Skin Relief Face Cream 5% Urea: Helps minimize flakiness and also contains antioxidant Vitamin E. Care agents from Tiger Grass help smooth lines caused by dryness and make the skin more supple.
Extreme Dry Skin Repair Lotion 10% Urea: Intensive hydration to soften dry and rough skin. Skin-related lecithin and richly nourishing sweet almond oil support the lipid balance. The face cream has been shown to be 86% successful in alleviation of dryness (Prof. C. Bayerl, Dermatology Dept., HSK Wiesbaden 2008).
Extreme Dry Skin Relief Shampoo 5% Urea: The complex with a mild sugar tenside compound gently cleanses the hair and scalp, providing intensive hydration to help restore moisture balance. A natural starch derivative supports the intact structure of the hair, improving its lustre and shine. The shampoo has been shown to be 63% successful in alleviation of dryness (Dr. r. M. Podda, Dermatological Dept., Hospital of Darmstadt 2010).
Sebamed's launch of its urea kit is a continued commitment to providing customers with a total body solution for very dry skin conditions. The Extreme Dry Skin with Urea Kit can be found on their website at sebamedusa.com.
About Sebamed
In 1967, Dr. Heinz Maurer pioneered the first commercial soap-free cleansing bar with a pH value of 5.5 to support the skin's natural hydrolipid protective layer (the acid mantle).
Today, Sebamed is recommended by dermatologists in over 85 countries and provides comprehensive skin care solutions for all age groups. The German skin care brand is ideal for individuals with sensitive and problematic skin.