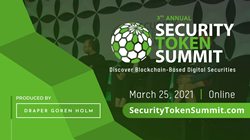 Alon Goren, Founding Partner of Draper Goren Holm and Producer of Security Token Summit, adds, "2021 will be a defining year for digital securities. We have an incredible speaker lineup, agenda, and announcements prepared for this year's summit that will forever change the security token sector!"
LOS ANGELES (PRWEB) February 11, 2021
Draper Goren Holm today announces SEC Commissioner Hester M. Peirce as this year's 3rd annual Security Token Summit keynote that is taking place virtually on March 25, 2021, from 8:30 AM to 6:30 PM PT. Commissioner Pierce will be joining thousands worldwide over an exclusive fireside chat scheduled at 9:00 AM PT.
Security Token Summit is the preeminent industry conference that cannot be missed. Presented over one full day, the virtual experience features insightful panels, presentations, fireside chats, and more alongside the most accomplished, powerful, and astounding list of over 50 international leaders revealing announcements, their knowledge, expertise, and direction for how they envision the future of digital securities. Free for all, the summit provides a platform for the blockchain industry that fosters exposure, education, collaboration, building, and development for the digital shares sector.
The digital securities and security token focused event will feature a robust agenda spanning a variety of themes such as compliance, liquidity, derivatives, secondary markets, regulation, custody, interoperability, and what we need to do as a financial community at large to achieve global adoption. Additionally, summit speakers will answer the exact reason why this sector is seeing such rapid growth, particularly as the nation transitions into a Biden administration.
"We're beyond excited to have Commissioner Peirce speak again at our conference," says Josef Holm, Founding Partner of Draper Goren Holm and Producer of Security Token Summit. "As we continue to invest in this sector's best founders, we're humbled to hear from her as well as other movers and shakers on how the next few years will evolve now that blockchain technology has established a more resilient presence in finance."
Alon Goren, Founding Partner of Draper Goren Holm and Producer of Security Token Summit, adds, "2021 will be a defining year for digital securities. We have an incredible lineup, agenda, and announcements prepared for this year's summit that will forever change the security token sector!"
Register now for Security Token Summit and join over 5,000 of public executives, bankers, securities attorneys, enterprises, asset managers, consultancies, accredited investors, and avid security token enthusiasts this spring.
Interested speakers can apply here.
Interested sponsors can review the remaining opportunities here.
About Draper Goren Holm
Draper Goren Holm, a partnership between Tim Draper, Alon Goren, and Josef Holm, is a venture studio and fund focused on accelerating and incubating early-stage blockchain and fintech startups, while simultaneously producing leading blockchain and cryptocurrency events, Security Token Summit and LA Blockchain Summit. Portfolio companies include Totle, Ownera, Innovesta, LunarCrush, Degens, Giftz, Vertalo, Coinsquad, CasperLabs, Element Zero, DeFi Money Market, and more.
For more info, visit https://drapergorenholm.com.