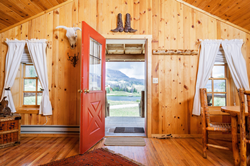 Now more than ever, the guest ranch's storied seclusion appeals to travelers looking to relax in a destination seemingly designed for the ultimate in social distancing.
DUBOIS, Wyo. (PRWEB) July 24, 2020
With past accolades like "hidden gem" and "where to go off the grid" to its credit, Brooks Lake Lodge, deep in the woods of Wyoming, far from any city or crowd, has always provided a get-away-from-it-all escape. Now more than ever, the nearly 100-year-old guest ranch's storied seclusion appeals to travelers looking to relax and rejuvenate the soul in a destination seemingly designed for the ultimate in social distancing. After a delayed start, Brooks Lake Lodge has officially begun its summer and early fall season, which extends through September 15, 2020. The lodge is limiting its always luxurious all-inclusive experience to a maximum of 25 guests on property at any time, and adding exclusive new activities as well as creating partnerships with local family farms for fresh and fabulous gourmet dining.
Nestled lakeside in the Wyoming Rocky Mountains at an elevation of 9,200 feet and more than 25 miles from the nearest small town, Brooks Lake Lodge provides a meaningful, nature-filled experience in the stunning backcountry of Shoshone National Forest. Guests can stay in the lodge's eight charming private cabins or in the Sheep Suite, located in the main lodge. Favorite outdoor activities, including hiking, fishing, horseback riding, canoeing, kayaking and archery are part of the resort's longtime all-inclusive offerings, with guided and unguided options available. New for 2020, Brooks Lake Lodge has added customized yoga lessons, private tours of Yellowstone National Park and astronomy lessons (when the weather is right) to its lineup.
Brooks Lake Lodge's gourmet meals – included with all stays – are legendary, including being called the "best meal in the middle of nowhere" by Food & Beverage Magazine. But this year the acclaimed culinary program is embracing farm-fresh dining at a whole new level. As part of General Manager Matthew Tousignant's desire to make the lodge more earth-friendly, Head Chef Jodi Beavers has been discovering delicious new locally sourced, organic and sustainable sources, forging partnerships with Lake View Gardens Vegetable Farm in Pavillion, Wyoming; Second Street Farm in Lander, Wyoming; Amaltheia Organic Dairy near Bozeman, Montana; and Great Northern Gourmet Coffee of Jackson Hole.
Dirk and Sue Gosnell's Lake View Gardens Vegetable Farm is 75 percent hydroponic, growing nutrient-rich microgreens and lettuces, cucumbers, broccoli, cabbage and more from non-GMO seeds with no herbicides or pesticides. Second Street Farm, created by Bailey and Pat Brennan on rich Lander Valley river bottom land, practices regenerative agriculture, including raising small-batch, free-range poultry and producing jewel-toned beets, garlic and chard to add depths of flavor to Chef Jodi's dishes. Family-owned Amaltheia Organic Dairy in tiny Belgrade, Montana, at the base of the Bridger Mountains, will bring the organic goat cheeses they've been handcrafting for decades to the Brooks Lake Lodge table. And gourmet micro-roaster Great Northern Coffee's Jackson Hole-roasted Estate Coffees will ensure lodge guests a tasty cup of joe.
With a roster of family-friendly adventures to choose from – including riding the surrounding trails, taking in the stunning 360-degree mountain views from atop a horse – the lodge offers an ideal vacation for travelers interested in immersing themselves in an active Western lifestyle while reveling in the luxuries of an all-inclusive resort. And Brooks Lake Lodge supplies gear and guides for fishing Wyoming's famous waters – with Chef Jodi custom preparing a freshly caught trout for dinner if a lucky fisherman so desires. With the reduced number of guests this summer, the always excellent guest-to-staff ratio will hover near one-to-one, giving Brooks Lake Lodge the opportunity to provide a bespoke experience for every guest.
The comprehensive measures taken to ensure guest safety provide additional confidence for thoroughly enjoying this wilderness retreat among the jagged ridgelines of the Wind River Mountains. "The safety of our staff and our guests is our number one priority," says G.M. Tousignant. "We closely follow guidance from the Center for Disease Control, Food and Drug Administration, and the American Hotel and Lodging Association. We are confident we can provide a safe and wonderfully memorable experience for our guests and are so fortunate to have such a remarkable and remote place to do so." Details of the lodge's health and safety policy are available on the website.
As always, Brooks Lake Lodge guests can truly relax, knowing that all meals and activities, as well as guides if desired, are included in the overnight rates, with hearty Western breakfasts, lunches and gourmet dinners served fireside in the Great Hall, and a Governor's Tea Time featuring freshly baked goodies and fruits to snack on laid out at 4 p.m. daily. The lodge is accepting reservations for the summer season through September 15, 2020. An all-inclusive stay starts from $713 per adult per night, and kids ages 5-12 stay for $465, while children up to age 4 stay for free.
About Brooks Lake Lodge & Spa
Brooks Lake Lodge & Spa, a nearly 100-year-old historic guest ranch near Jackson Hole, Grand Teton National Park and Yellowstone National Park, is located one mile from the North American Continental Divide, with views of the Pinnacle Buttes, Austin's Peak and Brooks Mountain. Surrounded by evergreen forests, wildlife and alpine Brooks Lake, the exclusive, all-inclusive Wyoming Rocky Mountain resort offers five-star service, luxury accommodations and gourmet dining. Named a 2019 Best All-Inclusive Resort in the U.S. by MSN Lifestyle, a 2018 Best Lake Resort by National Geographic Traveler magazine, a 2017 Western Landmark and hidden gem by Western Art & Architecture, a U.S. Rocky Mountain Stunning Inn & Lodge by Vacation Idea, a Top 10 Luxury Wildlife Lodge by Money Inc., Where to Go Off the Grid by the Travel Channel, and a Travel + Leisure Great American Lodge. For additional information and reservations visit http://www.brookslake.com or call 866.213.4022. Follow Brooks Lake Lodge on Facebook and Instagram.