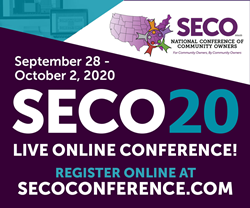 "SECO20 will provide the sense of connection and community that SECO always has been known to provide. It's taken some doing, but we are confident that the collaboration for attendees, sponsors, exhibitors, and presenters will be closer in feel to an in-person event than anyone anticipates."
ATLANTA (PRWEB) September 03, 2020
The SECO National Conference of Community Owners has released its schedule and speaker lineup for Sept. 28-Oct 2., with a recently added BONUS Day of content for manufactured housing professionals.
SECO, in its 10th year, was organized for community owners by community owners with an annual conference in the Atlanta area that has grown to a national event representing all aspects of manufactured home community operations, with an emphasis on small to midsize communities.
A New-Look SECO
In 2020, the SECO Conference will be held on a new virtual platform. The online venue covers three virtual floors including spaces for seminars, networking lounges, exhibit booths, meeting spaces, and a virtual home show. The first-ever virtual SECO is a unique partnership between the organizers of SECO and MHVillage, the premier online marketplace for manufactured housing.
For months, COVID-19 and associated protocols have kept people at home, or in as limited circulation as possible. However, the manufactured housing industry is essential and work must continue in the safest way possible.
"SECO20 will provide the sense of connection and community that SECO always has been known to provide," SECO Co-Founder and organizer Spencer Roane said. "It's taken some doing, but we are confident that the collaboration for attendees, sponsors, exhibitors, and presenters will be closer in feel to an in-person event than anyone anticipates."
Register for the Sept. 28-Oct. 2 virtual SECO Conference, and take advantage of unique sponsorship and advertising opportunities while availability remains.
SECO organizers have finalized and released the event agenda and speaker lineup for the event, with topics that range from general sessions to topics designed for industry newcomers, as well as others interested in sales, management, and home and community finance as well as marketing topics. The event also includes less formal fireside chats, and abundant networking opportunities.
Each session will conclude with a Q&A session between presenters-moderators and attendees.
SECO20 Virtual Conference Schedule Overview

Manager Monday (NEW in 2020!) - Monday, Sept. 28
For just three of the six presentations on Manager Monday, Maria Horton of Newport Pacific will talk about "Finding the Humanity During the Insanity of COVID-19", Ken Corbin of CallKenCorbin.com will provide attendees with "Insanely Fun Changes That I Need to Make Now", and Rent Manager's Lindsey Urs will present "Kick Back and Relax with Receivables Automation" from.
SECO Day 1 - Tuesday, Sept, 29
The first full day of SECO20 will include 19 presentations and roundtable discussions including a talk on "How to Acquire Your First Community" by M2K Partners' Eketerina Stepanova, a presentation from Dave Reynolds of IMPACT Communities on "Community Acquisitions and Turnaround", and "Case Study: The Rental Home Model" with Steve Case of Military Homes and Ayal Dreifuss from UMH Properties.
SECO Day 2 - Wednesday, Sept, 30
The SECO National Conference of Community Owners resumes Wednesday morning with Shawn Fuller of Integrity Homes providing an overview of "Delivery and Installation in 2020," "Buyer Trends" with Justin DeSpain of Clayton Homes, and a series of Mini TED Presentations among the 15 manufactured housing industry topics to choose.
SECO Day 3 - Thursday, Oct. 1
SECO20 is in full swing on Oct. 1, with a "State of the Industry" presentation from George Allen of EducateMHC, as well as CEO Dr. Lesli Gooch and President Mark Bowersox, both of MHI. The day also provides the aptly named "One-Minute Moneymakers", as well as a talk on how to "Take Control of Your Online Reputation" with MHVillage/Datacomp Co-President and Chief Business Development Officer Darren Krolewski.
Virtual SECO BONUS Day - Friday, Oct. 2
Lucky you, there's more to choose from, and perhaps you have something to say? As the SECO Conference planning team and its partners continue to program the fifth and final day of this annual event, reach out to us on sponsorship, advertising, and speaking engagement opportunities.
SECO20 attendees can choose from more than 50 sessions throughout the 5-day conference. And each of the approximately 500 participants will have an opportunity to interact one-on-one and in small groups with each other, a hallmark of SECO's effort to initiate conversations that heighten industry awareness and image.
Participate in 2020 SECO National Conference of Community Owners
Take a look at all the details regarding the SECO20 National Conference of Community Owners event schedule and educational presentation topics.
The cost for event registration at SECO20 ranges from $49 to $299, depending on the track and number of presentations desired. Manager Monday attendance requires a separate registration fee.
For more information on the 2020 SECO National Conference of Community Owners, visit secoconference.com.
About SECO National Conference of Community Owners
The SECO National Conference of Community Owners was founded a decade ago by a small group of committed manufactured housing professionals and has been held each year near Atlanta. The gathering is dedicated to building an industry environment and culture that looks to share best practices and help form new ideas. SECO was created for community owners, by community owners. It also is a tax-exempt 501(c)(3) organization. All proceeds go toward planning and programming for the next year's national gathering. Any excess revenue supports the Veterans Assistance Fund founded by SECO organizers in 2018.