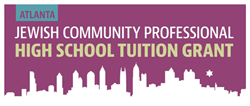 We found ourselves at a deep crossroad deciding where to send our eldest son to high school and this grant made it possible for us to afford our first choice (a Jewish high school).
ATLANTA (PRWEB) January 11, 2022
The Jewish Community Professional High School Tuition Fund has announced it will support a second cohort of students who begin enrollment at an eligible Atlanta Jewish high school in the 2022-2023 school year.
The grant was launched in Spring 2021, spearheaded by the Zalik Foundation and generous donors in the Atlanta Jewish community. The JCP Tuition Grant offers up to a 50 percent tuition discount for a SACS- or SAIS-accredited Atlanta Jewish high school to those who work full time for the Atlanta Jewish community as Jewish community professionals, clergy, or educators. The program has provided discounted tuition to eligible participating Jewish high schools for close to 90 children of Jewish professionals to date. These students will continue receiving the grant for the duration of their attendance at an eligible, participating Jewish high school.
Since its launch, the grant has successfully motivated Jewish professionals to relocate to Atlanta, to return to the field and to accept new roles at Jewish non-profit organizations.
"When we heard about the grant, my husband and I looked at each other and thought, 'This is an amazing opportunity to move to be closer to family and the schools are fantastic - what do we have to lose?'," said Amy Stolle Adler, who works at Prizmah. "I will never forget how it all happened – I heard about the grant on a Thursday, I called the schools in Atlanta on Friday to check for space and Monday we met with a realtor about listing the house in Dallas."
Adler said the move and the schools have been a "tremendous gift," and "the decision was one of the best things we have done for our kids and our family."
One parent accepted a position at a Jewish non-profit agency because her kids were enrolled in a Day School and the tuition grant was a great benefit for their family.
"My kids had an amazing elementary and middle school experience, but my regret during these early-ish years of schooling was that they were not learning Hebrew. Now they are learning the language and are part of a school community that is centered on Jewish values, Jewish history, and a deep connection to Israel. We have done our best to teach these at home and at synagogue, but it's nice for kids to understand that they are part of a much larger Jewish community."
Rabbi Ed Harwitz, Head of The Weber School, underscored the importance of the grant to the schools' future: "The grant enabled the schools to create a reinvestment fund to support the development of new curriculum and programming to drive student enrollment and excellence. The reinvestment funds have launched new and important initiatives that contribute to the quality and value of the school at an inflection point in schools' history when the pandemic prompted day school enrollment increases."
Additionally, the parent of an eligible student shared, "We found ourselves at a deep crossroad deciding where to send our eldest son to high school and this grant made it possible for us to afford our first choice (a Jewish high school)."
The JCP High School Tuition Grants are funded by members of the Atlanta Jewish community in appreciation for the many contributions made by Jewish community professionals. Supporters include The Zalik Foundation, The Marcus Foundation, the Jewish Federation of Greater Atlanta, the Argo Family Fund, Gerald R. Vicki S. Benjamin Family Charitable Foundation, Inc., Ann and Jay Davis, Halpern-Oppenheimer Family Foundation, Julie Kaminsky and Alan Minsk, The Radow Family Foundation, the Henry & Etta Raye Hirsch Heritage Foundation, as well as anonymous supporters.
"We value and appreciate the work that Atlanta's Jewish educators, professionals, and clergy do on behalf of our community, and we want to help Atlanta continue to attract and retain top Jewish professional and educational talent," said Helen and David Zalik, principles of The Zalik Foundation. "Most importantly, we want the children of these professionals to have access to the life-long benefits Jewish high school provides. If successful in Atlanta, we hope to help expand this model to other cities nationwide."
As defined by the program, a Jewish non-profit organization is the Jewish Federation of Greater Atlanta or an affiliate agency, grantee, or partner; Metro Atlanta Synagogue; Metro Atlanta Jewish day school; Jewish overnight or day camp; national Jewish non-profit organization; AIPAC and Israel consulate; and any other not-profit entity approved by the Jewish Community Education Fund Committee.
Participating, SACS or SAIS accredited high schools are Atlanta Jewish Academy; Temima, The Richard & Jean Katz High School for Girls; and The Weber School. Students must apply to and earn acceptance to one of these Jewish high schools. If at least one parent is a full-time Jewish professional, clergy, or educator, then the child may be eligible to receive a JCP High School Tuition Grant. A child who qualifies is eligible to receive a grant for attending one of these accredited Atlanta Jewish high schools, regardless of parental income.
For students of eligible Jewish professionals currently attending or considering applying for entrance to one of the three SACS or SAIS accredited Jewish high schools in Atlanta for the Fall of 2022-2023, please contact the following professionals:

Atlanta Jewish Academy – Jessica Sacks, Director of Admissions, at jsacks@atljewishacademy.org or (678) 298-5377
Temima, The Richard and Jean Katz High School for Girls-Lora Fruchtman, School Administrator at lfruchtman@temima.org or (404) 315-0507 x104
The Weber School – Ms. Rise Arkin, Director of Admissions at risearkin@weberschool.org or (404) 917-2500 x117