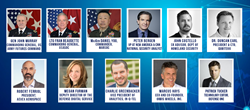 "We've worked closely with USASOC to put together this amazing lineup of speakers. I don't think anyone will be disappointed by the quality or the topics discussed." - Meaghan Keeler-Pettigew, GSF President and COO
FAYETTEVILLE, N.C. (PRWEB) November 05, 2019
The Global Special Operations Forces (SOF) Foundation is heading back to the critical U.S. Army hub of Fort Bragg for the second time. In August 2018, the Foundation hosted its first Modern Warfare Symposium and Expo at Ft. Bragg's Iron Mike Conference Center, and now the Global SOF team is returning for a more extensive event.
The Foundation is the only professional association for the international SOF community. This non-profit organization has again partnered with U.S. Army Special Operations Command (USASOC) to execute a 3-day Modern Warfare Symposium, which features high-level speakers, networking opportunities, and a world-class transition seminar.
The Symposium will span Nov. 20-22, with General Sessions starting on Nov. 21, and the bench of speakers and panelists is deep. The Symposium co-host, Commanding General of USASOC LTG Fran Beaudette, will provide the welcome remarks to set the tone and intent of the event. The list of Keynote Speakers includes GEN John Murray, the Commanding General of U.S. Army Futures Command, and MajGen Daniel Yoo, the Commander of U.S. Marine Corps Forces Special Operations Command (MARSOC).
There will also be a variety of panels and senior leader discussions. Representatives from Italy, Lithuania, and the U.S. will dive in on Information Warfare. Thought leaders from across industry will discuss disruptive technologies. And CNN's Peter Bergen will host a Senior Leader Conversation with Mr. Christopher Miller, the Special Assistant to the President for Counterterrorism on the National Security Council.
In addition to the speaker lineup, the event will kick-off on Nov. 20 with a SOF for Life Seminar, which will be executed by The Honor Foundation. This seminar has been called "life-changing" by many attendees and is especially relevant to SOF service members who are within 24 months of their separation from Active Duty. It's free to attend and participants are encouraged to bring their spouse, as applicable.
The Symposium is one giant networking opportunity, with lengthy coffee breaks, lunches, and receptions throughout to allow for deeper conversations. The evening events include the "Welcome Reception," which will take place on Nov. 20, at The Taphouse in Fayetteville, and the Networking Reception on Nov. 21 at the Iron Mike Conference Center.
As part of an overarching "Modern Warfare Week," other Foundation-driven events will be occurring adjacent to the Symposium.
From Nov. 19-20 the inaugural Demo Days will take place just thirty minutes outside of Ft. Bragg at The Range Complex in Autryville, NC. This hands-on experience will allow attendees to ride in elite vehicles, shoot game-changing ammunition, and even see some explosives in action.
The Modern Warfare Expo is a less kinetic but equally fascinating opportunity to see new technologies and capabilities in the comfort of the Iron Mike Conference Center--right next to the Symposium sessions. The Expo will have the same schedule as the Symposium on Nov. 21 and 22.
Join us to get an update on the greater SOF community, learn about capabilities, and expand your network. Press are welcome to attend, although some sessions are under Chatham House Rule. Learn more here.
For general event information and registration, visit: http://bit.ly/PR19MWS
------------------
The Global Special Operations Forces (SOF) Foundation (GSF) is a 501(c)(3) non-profit organization that aims to build and grow an international network of military, government, commercial, and educational stakeholders in order to advance SOF capabilities and partnerships to confront global and networked threats.