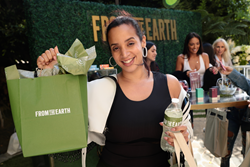 Secret Room Events is the leading producer of gift lounges and gift bags in the Entertainment industry
BEVERLY HILLS, Calif. (PRWEB) September 25, 2019
Many nominees, celebrities, media and press are invited to attend Secret Room Events Red Carpet Retreat. Benefiting Best Friends Animal Society and Omics LIVE (both who will be on-site) this event will offer guests access to be gifted an array of fabulous products and services from event sponsors while enjoying food and beverages and a special full service cannabis bar. From The Earth - a vertically integrated cannabis enterprise and named one of Southern California's top dispensaries, is the exclusive cannabis partner of the Red Carpet Retreat and the first ever cannabis bar to be offered at a gift lounge. Also on-site gifting will be Papa & Barkley, Kurvana and Kushy Punch.
Beverages and goodies will be served thanks to Wolfgang Puck Coffee and Anne Amie Vineyards which are located in the rolling hills of the Yamhill-Carlton District in Oregon's verdant Willamette Valley. Primo water will be on-hand to supply eco-friendly healthy water choices to help stay hydrated. Toni&Guy Hair will offer guests topknot, braid and wave hair services and nail polish changes. Lashes and make-up will be serviced by Michelle for Dial M.
Secret Room Events is very proud to be able to introduce two very special young sponsors to the Red Carpet Retreat. Founded in June 2018 by then 12 year olds Hailey Hertzman and Katie Vonder Haar, Ooh La Lemon offers clothing, accessories, and gifts that are fun, fruity and trendy and appeal to the young and "young at heart."
Guests will also be offered a variety of gifts from the below sponsors:
New Way Horizon Travel - gifting 4 night luxury Hawaiian vacation packages
1MORE - global consumer audio company offering premium quality headphones at a consumer-friendly value
Sleevey Wonders - slip-on sleeves made to wear under your sleeveless clothes to magically transform your outfit into something new
Gelmor Lace - the oldest and largest importer of true French Lace in all widths and colors, plus tulles - all stocked in NYC
Inika Organic - the world's healthiest beauty brand using 100% natural ingredients and certified organic, vegan, cruelty free and halal
Desert Daisy Jewelry - handcrafted, bohemian jewelry brand focused on creating unique crystal jewelry for women who appreciate natural beauty
Neva Nude - a wide array of products worn by celebs including Naughty Knix matching pasties and panties and anything else you need to adorn and be adored
Mercedes Brunelli - clutch the unusual, carry a masterpiece with exclusive handmade clutches worn by celebrities
Rafia Jewelry - hand made in the USA and customizable jewelry that draws influence from the beautiful landscapes that surround and has been worn by many celebrities
ChildLife Essentials - committed to offering the first complete line of premium liquid nutritional vitamins and supplements made especially for infants and children
Zatik Naturals - beauty products made using fresh raw botanicals cultivated along the Pacific coast without any preservatives, parabens, synthetic ingredients, petrochemicals, artificial colors, or fragrances
Guests and media will leave heavy handed with gift bags full of products from:
Dr. Ava Shamban, Neutrogena, Polder, Zatik Naturals, Amore Pacific, Essential Faith, Spectrum Collections, Dermaglove, Justin's, Honolulu Cookie Company, Mylkman, Field Trip, Solo Eyewear, Eveden, Score Game Day Bags, Relevant Play, Molo, My Brest Friend, PI Kids, Kahootz Toys, Einstein Pets, John Paul Pet, Matrix Partners, Rachel Tribble, Lynne Hunt London, Author Becky Page, Earth Saver bags, Brown Books Publishing Group and Workman Publishing.
FOR MEDIA AND PRESS INTERESTED IN COVERING THE EVENT: please contact rsvp@secretroomevents.com with credentials to be confirmed
About Best Friends Animal Society:
Best Friends Animal Society is a leading national animal welfare organization dedicated to ending the killing of dogs and cats in America's shelters. In addition to running lifesaving programs in partnership with more than 2,600 animal welfare groups across the country, Best Friends has regional centers in New York City, Los Angeles, Atlanta and Salt Lake City, and operates the nation's largest no-kill sanctuary for companion animals. Founded in 1984, Best Friends is a pioneer in the no-kill movement and has helped reduce the number of animals killed in shelters nationwide from an estimated 17 million per year to about 800,000. That means there are still nearly 2,200 dogs and cats killed every day in shelters, just because they don't have safe places to call home. We are determined to bring the country to no-kill by the year 2025. Working collaboratively with shelters, rescue groups, other organizations and you, we will end the killing and Save Them All. For more information, visit bestfriends.org.
About Omics LIVE:
Omics LIVE is an Award Winning 501(c) non-profit Internship program dedicated to curating custom live, remote and pop-up experiences for student skillset development and career preparation. Lead by industry leading Executives and a staff comprised of senior level Interns desiring leadership skillsets, the Foundation is entering its 5th year servicing more than 600 students desiring to explore a multitude of career options while committing to skillset enrichment activities
About Secret Room Events: In business 11 years, Secret Room Events is the leader in celebrity product placement and top gift lounge producer in Hollywood. Please contact Amy@secretroomevents.com if interested in sponsorship.