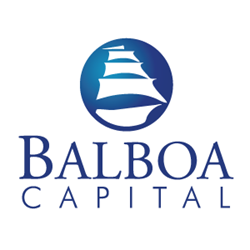 A large number of business owners are purchasing new and used equipment in December so they can expense 100% of the cost under the Section 179 provision
Irvine, California (PRWEB) December 16, 2013
With the current Section 179 Tax Deduction of up to $500,000 set to expire at the end of the year, businesses in every industry are making last-minute capital equipment acquisitions. Balboa Capital, one of the largest independent equipment leasing companies in the United States, is seeing a significant increase in equipment financing activity from business owners who want to take advantage of this special tax incentive.
"A large number of business owners are purchasing new and used equipment in December so they can expense 100% of the cost under the Section 179 provision," said David Chiurazzi, Chief Financial Officer at Balboa Capital. "We are getting a considerable amount of online and telephone inquiries from new and existing customers who need fast financing for their equipment purchases, and we are geared up for the end-of-year rush. We have the staff, infrastructure and web-based systems in place to provide businesses with an easy and hassle-free financing experience during the busy holiday season."
The Section 179 Tax Deduction is an IRS tax incentive that allows businesses to accelerate depreciation on qualifying equipment that is purchased or financed and put into business use on or before December 31, 2013. The current Section 179 Tax Deduction limit of $500,000 is scheduled to decrease to $25,000 on January 1, 2014. In addition, the current first-year bonus depreciation on new capital equipment is 50% through the end of 2013. "Business owners who are contemplating equipment purchases should act now and choose a financing resource that can facilitate their transactions in a timely manner," said Mr. Chiurazzi. "With Balboa Capital's simple one-page finance application, Section 179 calculator, one-hour credit decisions and same-day funding, business owners can get equipment quickly and not miss out on the Section 179 Tax Deduction."
Balboa Capital keeps business owners up-to-date on the latest news regarding this tax incentive with a variety of communications efforts, including a Section 179 video and Section 179 infographic. Not all types of equipment qualify for the Section 179 deduction, therefore business owners should consult with their tax professionals prior to making any purchases.
About Balboa Capital
Balboa Capital is one of the largest privately-held independent finance companies in the United States delivering access to capital, speed of processing, dependable funding, state-of-the-art technology and innovative marketing tools that small and medium-sized customers require to fuel their growth and success. Celebrating 25 years in business in 2013, Balboa Capital markets its products through their small ticket, middle market and vendor sales channels. The company's assortment of financing products includes equipment leasing, commercial financing, small business loans, equipment vendor financing, and franchise financing. Visit http://www.balboacapital.com for more information.