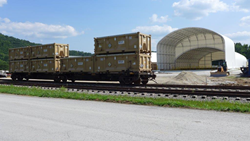 Waste managers who have hesitated to use rail because their locations aren't directly served by a railroad or they don't have time to deal with the railroads can turn to SECUR.
PITTSBURGH (PRWEB) December 04, 2018
With the recent release of a major new report on the potentially devastating environmental and economic impacts of climate change in the United States, many companies are looking for new ways to reduce their carbon footprint. For companies that need to transport environmentally sensitive wastes for disposal, the solution may be rail.
According to the national climate assessment issued in November 2018 by the U.S. Global Change Research Program, the transportation sector is the top contributor to U.S. greenhouse emissions, partly due to increased volumes of freight trucking.
Freight rail has a much smaller carbon footprint than other transportation modes, according to the Association of American Railroads (AAR). The AAR estimates that transporting by rail is four times more fuel efficient than by truck. Innovations such as improved freight car designs and "greener" railyard operations have made freight rail even more sustainable. Freight trains currently account for just 0.5% of U.S. greenhouse gas emissions.
SECUR, a privately owned, asset-based provider of logistics, packaging, technical services and waste management for the hazardous/industrial, and oil & gas markets, has been helping customers capitalize on the benefits of rail for decades.
The staff of SECUR pioneered waste-by-rail solutions for the radioactive and hazardous markets. Members of the staff at SECUR initiated radioactive Class 7 shipments via commercial rail, a method that has been employed in the U.S. for over 30 years. SECUR's founders also were the first to use flexible packaging in gondola railcars to transport radioactive, hazardous and non-hazardous soils and debris.
SECUR continues to be the industry's major innovator, with a growing fleet of new railcars in proprietary configurations that have even greater carrying capacities than railroad-owned cars for deeper fuel savings.
Rail freight has long been viewed as more advantageous than truck freight for long hauls or high volumes because of its cost-saving and time-saving benefits.
With the added incentive of reducing greenhouse emissions, there is no time like the present for waste generators to reevaluate their transportation plans. Waste managers who have hesitated in the past to use rail because their locations aren't directly served by a railroad or they don't have time to deal with the railroads can turn to SECUR.
"Negotiating and managing rail contracts can be daunting, especially if you're an already over-extended project manager," said Jim Christafano, SECUR's Operations Manager. "Our logistics experts have years of experience negotiating with Class I and short-line railroads. We understand how rail transportation is routed, contracted and scheduled, and we can negotiate the most advantageous rail contracts for our customers."
SECUR offers truck-to-rail transloading services at appropriately permitted locations for customers whose facilities are not rail-served. SECUR also works with customers to identify waste packaging that is compliant with all regulations, compatible with rail transport and acceptable to the disposal facility.
"With our knowledge and expertise, we believe we can assist almost any producer of hazardous or radioactive wastes in benefiting from rail transport," said SECUR president John Evanko. "That's good for our customers, good for us, and good for the environment."
For more information, please contact Chris Vidovich, Senior VP, Sales, at 724-980-2839.