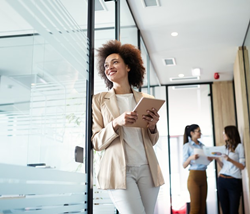 HOBOKEN, N.J. (PRWEB) February 13, 2020
A NYC area IT security consultant and managed services provider (MSP) reviews current password guidelines and how passwords have changed in a new article on the eMazzanti Technologies website. The informative article also explains multi-factor authentication and identifies some of the barriers to its adoption, including cost and complexity.
The author then discusses benefits to small businesses of using multi-factor authentication, such as regulatory compliance and reputation. Finally, he encourages the use of a layered defense that incorporates strong passwords and multi-factor authentication.
"Savvy organizations use a combination of strong passwords and multi-factor authentication to secure sensitive data and processes," stated Almi Dumi, CISO, eMazzanti Technologies.
Below are a few excerpts from the article, "Secure Your Business with Strong Passwords and Multi-factor Authentication."
Password Evolution
"In 2017, the National Institute of Science and Technology (NIST) released updated password guidelines. These guidelines emphasize password length over complexity. Specifically, they advocate using passphrases instead of passwords (for instance, SnoopyLove$P3anuts). And they no longer advise frequent password changes."
Passwords No Longer Enough
"While the new guidelines help, passwords remain a problem. The average user needs to remember dozens, if not hundreds, of passwords. As a result, users develop bad habits, such as reusing passwords or writing them down. Additionally, when a hacker learns a password through phishing or keylogging, the complexity of the password makes no difference."
Enter Multi-factor Authentication
"Consequently, organizations increasingly turn to a combination of passwords and multi-factor authentication to keep the business and its data safe. Multi-factor authentication, sometimes referred to as two-factor identification, adds a layer of security by requiring multiple pieces of evidence to prove identity."
Strengthen Security with Passwords and Multi-factor Authentication
Business leaders should make the commitment now to secure sensitive business and customer data with a layered solution that includes both passwords and multi-factor authentication. With decades of experience customizing cyber security solutions for businesses of all sizes, eMazzanti Technologies will provide the right solution that balances security with usability.
Have you read?
Emotet Phishing Scam Targets Financial Institutions with Malicious Fake Invoices
Law Firm Mobile Security Best Practices
About eMazzanti Technologies
eMazzanti's team of trained, certified IT experts rapidly deliver increased revenue growth, data security and productivity for clients ranging from law firms to high-end global retailers, providing advanced retail and payment technology, cloud and mobile solutions, multi-site implementations, 24×7 outsourced network management, remote monitoring and support.
eMazzanti has made the Inc. 5000 list eight consecutive years, is a 4X Microsoft Partner of the Year, the #1 ranked NYC area MSP and NJ Business of the Year! Contact: 1-866-362-9926, info@emazzanti.net or http://www.emazzanti.net Twitter: @emazzanti Facebook: Facebook.com/emazzantitechnologies.