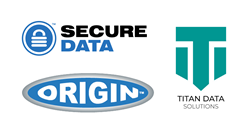 "We are happy to announce Origin Storage Limited and Titan Data Solutions as our new distributors in the UK," says Ken Higgins, SecureData Director of Business Development.
LOS ANGELES (PRWEB) April 20, 2021
California-based SecureData and United Kingdom-based distributors Origin Storage and Titan Data Solutions are pleased to announce a new partnership. Together, the companies will be able to better serve the United Kingdom by bringing SecureData's award-winning hardware-encrypted USB and flash storage devices to a much broader consumer base in the United Kingdom.
"We are happy to announce Origin Storage Limited and Titan Data Solutions as our new distributors in the UK," says Ken Higgins, SecureData Director of Business Development. "Origin has been providing storage solutions since 2001 and has an established customer base needing our SecureDrive and SecureUSB products. Titan specializes in storage solutions and cybersecurity, making them well equipped to support a growing base of customers needing encrypted storage. We see a growing demand for FIPS 140-2 Level 3 certified storage devices all across the UK, and Origin and Titan are well positioned to take advantage. We look forward to a great partnership with Origin and Titan."
As the demand for backup solutions and greater protection of digital assets continues to grow both in North America and Europe, this partnership will help British consumers to create a comprehensive security solution. Origin's and Titan's stance and prestige in the United Kingdom will allow SecureData greater access to the British market, while SecureData's award-winning designs will bolster both entities as a reliable and trusted reseller that offers the highest quality products.
SecureData's hardware-encrypted HDD, SSD, and flash devices feature FIPS-compliant XTS AES 256-bit hardware encryption, OS- and host-independent, and anti-brute force hacking technology. The BT line of SecureDrive and SecureUSB devices also features Remote Management capabilities that allow IT administrators complete control over when, where, and by whom an unlimited number of BT drives can be accessed to protect sensitive data in the event that a drive gets lost or stolen.
At a time of unprecedented risk for data leaks and ransomware attacks, data security has never been more important for private corporations, public organizations, and critical infrastructure across Europe and around the world. SecureData is compliant with the EU-U.S. Privacy Shield and the Swiss-U.S. Privacy Shield Framework. SecureData is committed to subjecting all personal data received from European Union (EU) member countries, the United Kingdom, and Switzerland to the Privacy Shield Framework's applicable principles.
About SECUREDATA:
SECUREDATA, Inc. is a privately held company headquartered in Los Angeles, California, and with significant operations in Cleveland, Ohio. SecureData offers a range of tailored, high-level data protection capabilities through a set of services and products. These include a completely FIPS-Certified, hardware-encrypted portable data storage device product line, backup solutions, file repair software, data recovery, and digital forensics services to help clients achieve their security objectives. SecureData has a worldwide presence through its partners in North America, Europe, the Middle East, and Africa (EMEA), Asia, and South America, and serves companies and organizations in regulated industries, such as government, financial services, military, law enforcement, legal, healthcare, and education.
For more information, please visit:
http://www.securedata.com and http://www.securedrive.com
About Origin Storage:
Origin Storage is headquartered in Basingstoke, United Kingdom. It was founded in 2001 to provide hard drive solutions to computer manufacturers. It has earned a reputation in Europe as the go-to distributor for wide ranging storage solutions, encrypted drives, data security products, and more.
For more information, please visit:
https://www.originstorage.com/
About Titan Data Solutions:
Titan Data Solutions is headquartered in London, United Kingdom. It was incorporated in 2018 and supplies cybersecurity service packages and solutions with a mission to combine decades worth of experience to deliver to the channel a model of distribution that adds value, direction, and expertise to the VARS, MSPs and System Integrators around the UK. It follows a 3-2-1-1 "best practice" rule to supply its customers.
For more information, please visit:
https://titandatasolutions.com/