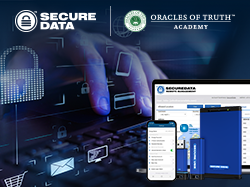 SecureData provided a real-time solution when we needed it most. We and our clients thrived during the COVID-19 pandemic. SecureData made it possible.
LOS ANGELES (PRWEB) November 11, 2021
SecureData's comprehensive data security solutions, including hardware-encrypted USB portable storage devices and remote drive management software, now help a Sacramento, CA-based nonprofit keep their homeless outreach program operational amid severe restrictions imposed to combat the spread of COVID-19.
Oracles of Truth Academy (OTA) and its staff members serve some of California's most vulnerable populations. They provide workforce and job placement services in an effort to create new opportunities for individuals who have been uprooted by economic hardship, mental health issues, and drug abuse.
OTA administrators do extensive screening of all program participants. This includes the gathering of employment history, medical records, and information on drug addiction and treatment, among other sensitive and regulated data.
OTA founder Dr. Tammé Shinshuri needed a secure way for her administrators to access participant information regulated by federal HIPAA and FERPA legislation while working remotely from home or in the field. Normal program operations had been severely impacted by the COVID-19 pandemic.
SecureData's business development team created a custom solution for OTA that included SecureDrive BT and SecureUSB BT portable storage devices and Remote Management Console subscriptions, which provide remote and centralized drive management. It was the right approach at just the right moment, according to Dr. Shinshuri.
"SecureData provided a real-time solution when we needed it most. We and our clients thrived during the COVID-19 pandemic. SecureData made it possible," she said.
SecureDrive BT and SecureUSB BT devices are FIPS 140-2 Level 3 validated and XTS-AES 256-bit hardware encrypted for the highest level of data security available in a portable USB drive. SecureData's BT drives authenticate via your smartphone or mobile device and the free ClevX® DATALOCK® mobile app. OS/host independence ensures easy and effective deployment. BT drives work with any device that has a standard USB port.
BT drives are also remote management ready out of the box. The RM console gives IT administrators full control over where, when, and how drives can be accessed, the ability to reset passwords or revoke access remotely and remotely wipe all data in the case of lost or stolen drives.
Ken Higgins, Vice President of Business Development at SecureData Inc., helped OTA find the right solution to keep their operations in support of California's unhoused populations in full operation despite the challenges of COVID-19.
"Given the incredible sensitivity of the information OTA handles, they needed a solution that would not put individuals who had already suffered so much at any additional risk from leaks of protected personal information. Our FIPS-validated and hardware-encrypted storage devices, and the RM console were the perfect tools to ensure total data security," said Mr. Higgins.
"It was also just a real pleasure working with Dr. Shinshuri, and I'm proud that SecureData could be a part of her service in support of communities in need."
About SECUREDATA, Inc:
SecureData is a privately held company headquartered in Los Angeles, California. We provide ultra-secure and innovative data security solutions to our partners and customers worldwide through specialized services, software, and products. Our offerings include professional data recovery services, digital forensics, FIPS-validated, and hardware-encrypted portable data storage, data backup solutions, and file repair software. SecureData has built a reputation as a trusted security solutions provider with the highest number of industry-specific certifications proving that our process, facilities, and products exceed industry standards.
Please visit https://www.securedata.com/ and https://www.securedrive.com/ for more information.
About ClevX, LLC:
ClevX is an information security technology company – Your Innovation Partner. It is focused on the security/mobility markets, where ClevX pioneered its award-winning DATALOCK® KP/BT secured USB and drives (OS-agnostic, hardware encrypted, PIN- or phone-activated, bootable) and easy-to-use portable software applications for secure drives for personal and business use. ClevX differentiates itself by creating solutions that are simple, clever
For more information, please visit: https://www.clevx.com/
About Oracles of Truth Academy:
The Oracles of Truth Academy is a 501(c)(3) nonprofit corporation founded by Dr. Tammé Shinshuri in 2010. OTA links disproportionately underserved individuals in the community who have been socially and economically impacted to whole-person care, education, and employment services to improve their quality of life, well-being, and self-efficacy. Through health and human services, education, and employment support, OTA delivers an affordable, quality, holistic, and debt-free learning experience.
For more information, please visit: https://oraclesoftruth.org/the-academy
SECUREDATA Media Inquiries:
pr@securedata.com
SecureDrive Product Sales Inquiries:
sales@securedrive.com or call 1-424-363-8535
Request a Free Evaluation: https://www.securedrive.com/support/request-evaluation