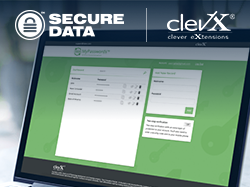 We are excited to offer this self-service password management solution for our SecureData customers.
LOS ANGELES (PRWEB) January 17, 2022
SecureData has expanded its data security offerings and unveiled an easy-to-use self-service password management solution (MyPasswords™*) accessed with users' own email addresses. Now all SecureData award-winning FIPS 140-2 Level 3 validated data storage devices come with a free three-year MyPasswords license. The purchase of any SecureDrive or SecureUSB portable external data storage device is required.
MyPasswords is a cloud-based service that users can set up easily using only an email address. Once users log into their email dashboards, they can create, store, and manage their PINs/Passwords for SecureDrive or SecureUSB devices, helping their users avoid forgetting their PINs/Passwords in the future. Any secure credentials that users need for their daily lives can be stored and managed by MyPasswords. As an extra security measure, users can enable two-step verification via SMS to their mobile phones.
"We are excited to offer this self-service password management solution for our SecureData customers. This innovative solution is licensed from our proven technology partner, ClevX, LLC, and enables users to securely store, restore, and manage their various passwords, PINs, and other secure access credentials," said Ken Higgins, Vice President of Business Development at SecureData. "Users do not need to create an account and master password. Their active email address is the only thing they need. It's that easy."
For more information, please visit: https://www.securedrive.com/product/mypasswords
*SecureData's MyPasswords uses MyPasswords technology licensed from ClevX, LLC.
About SECUREDATA, Inc.
SecureData is a privately held company headquartered in Los Angeles, California. We provide ultra-secure and innovative data security solutions to our partners and customers worldwide through specialized services, software, and products. Our offerings include professional data recovery services, digital forensics, FIPS-validated, and hardware-encrypted portable data storage, data backup solutions, and file repair software. SecureData has built a reputation as a trusted security solutions provider with the highest number of industry-specific certifications proving that our process, facilities, and products exceed industry standards.
For more information, please visit: https://www.securedata.com/
About ClevX, LLC
ClevX is a Seattle-based information security technology company – Your Innovation Partner. It is focused on the Security/Mobility markets where ClevX pioneered its award-winning DATALOCK® KP/BT Secured USB and drives (OS-agnostic, hardware encrypted, PIN- or Phone-activated, bootable) and easy-to-use portable software applications and services for secure drives for personal and business use. ClevX differentiates itself by creating solutions that are simple, clever, and elegant.
For more information, please visit: https://www.clevx.com/
SECUREDATA Media Inquiries:
pr@securedata.com
SecureDrive Product Sales Inquiries:
sales@securedrive.com or call 1-424-363-8535
Request a Free Evaluation: https://www.securedrive.com/support/request-evaluation