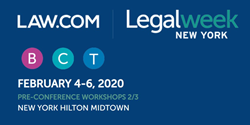 We are thrilled to provide the legal community with a new product that dramatically reduces the risk of data breaches.
NEW YORK (PRWEB) January 22, 2020
SecureReview is proud to sponsor Legalweek 2020 and the Legaltech conference at the New York Hilton Midtown from February 3 to 6, 2020. Legaltech is the world's largest and longest running trade show for legal technology. SecureReview's powerful suite of security solutions will be on display at booth #3231, with live demos on demand.
SecureReview's best practice information security solution prevents data hacks, leaks and compromises in a world where data breaches are on the rise. In the first half of 2019, 3,813 breaches exposed over 4.1 billion records. Compared to the first half of 2018, reported breaches were up 54%.
SecureReview is state-of-the-art security infrastructure dedicated to your matter. Maintain the strongest available cybersecurity posture between eDiscovery vendors and clients, 24 hours a day.
Protection for the Last 18 Inches of the Internet
Multiple layers of detection prevent workarounds. SecureReview's newly launched SessionGuardian cybersecurity tool is groundbreaking end-point protection for sensitive data. Using revolutionary biometric AI technology, SessionGuardian protects the last 18 inches of the internet (that's the distance between the screen and your eyes).
SessionGuardian will also enforce no-cell phone policies in restricted areas when integrated with approved cell phone intrusion detection devices.
With the rapid increase of legal contractors, remote work policies and outsourced labor, attorneys and their clients are in dire need of a completely locked down environment for document review. "We are thrilled to provide the legal community with a new product that dramatically reduces the risk of data breaches," said SecureReview founder Jordan Ellington. "The technology we've developed is unlike any other cybersecurity solution on the market today."
About SecureReview
SecureReview, founded in 2017, provides a high-performance, project-specific virtual PC service. Corporate legal departments, law firms, document review staffing agencies, and e-discovery data hosting providers use SecureReview to greatly reduce the risk of confidential information disclosure, data loss, and malicious attacks on document review systems. With SecureReview, informational artifacts of the document review process are never downloaded to local computers in the agency. SecureReview works in concert with all of your legal technology solutions to provide best in class protection. For more information about SecureReview, visit https://www.securereview.com or contact press@securereview.com.