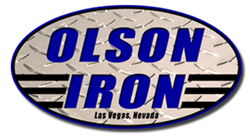 If you don't find exactly what you are looking for, give us a call and we'll be happy to come to your location and design something for you
Las Vegas (PRWEB) May 02, 2014
Ensuring protection against the extreme weather and overall safety for homes and residents, Olson Iron is now providing superior quality and energy efficient security solar screens in Las Vegas. These screens keep the interior warm during winter, and cool in summer, while shielding against harmful UV rays. Unlike window tints, curtains and blinds that heat up windows before blocking the sun's rays allowing heat to enter freely, the Olson Iron solar screens block 80-90% of the solar rays, preventing the windows from heating up, thereby ensuring much cooler interiors.
In addition to this, their cost-effective solar screens facilitate privacy against anyone walking by outside, but at the same time residents can easily and clearly keep an eye on the exterior from the inside. Well-known for offering the best quality Iron Gates in Las Vegas, Olson Iron's forte is reflected in their solar screens, as well. A representative mentioned, "Olson Security Solar Screens understands that your home is your castle and your investment. Therefore, the timeless beauty of wrought iron, combined with its strength and long-lasting durability provides style and security to your home. With Olson Security Solar Screens, you can rest assured you've made the smart choice for your home and family." They provide custom work, too. The spokesperson said, "If you don't find exactly what you are looking for, give us a call and we'll be happy to come to your location and design something for you!"
Their product range also includes durable Iron Security Doors and Window Guards, Iron fencing, Iron stair rails, along with high-strength patio covers in Las Vegas.
About Olson Iron
Olson Iron's "Custom Wrought Iron Showroom" is a custom wrought iron manufacturer for both residential and commercial projects. They are an established, competitive company in Las Vegas and are proud to offer the highest-quality and aesthetically pleasing products to their customers. Their unparalleled craftsmanship is evidence that they are head and shoulders above competitors. It is their goal to provide professional, efficient service and superior quality workmanship to each customer. Their fabricators are proficient with all types of metal, including stainless steel, aluminum, and brass and copper; therefore, they are able to provide a service and a product not found anywhere else.
For more information, please visit- http://www.olsoniron.com.