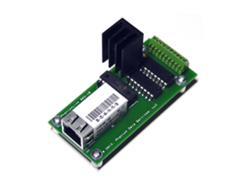 Watchdog is a convenient no-contract alarm monitoring solution.
(PRWEB) December 11, 2013
Phantom Data Services is pleased to announce the launch of the PhantomLink Watchdog, a self-contained remote monitoring device for do-it-yourself alarm installations. The Watchdog is a convenient no-contract alarm monitoring solution with no service fees or hidden costs. It uses a standard internet connection, and provides email/text message alerts as well as live status monitoring through its integrated web server.
The PhantomLink Watchdog is designed as a universal adapter that bridges a wide variety of alarms and sensors to the internet. The device accepts up to 5 different trigger inputs and is capable of notifying up to 2 different email or text message accounts when an input is activated. Each input is configurable to provide varying trigger thresholds, time delays, and notification intervals.
A built-in web server provides a real-time status display, providing useful information about current input levels and trigger times. The web server also serves as the main configuration interface. All configuration settings are managed through a simple webpage.
The PhantomLink Watchdog is well suited as an email and text message alert system for alarm panels and other time-critical sensors. The small form factor allows the device to be easily integrated into existing electronics enclosures, and supports a wide range of trigger voltages. Any source that provides 3 to 15 volts can trigger the device to send a notification.
The PhantomLink Watchdog is currently available from the PhantomLink website for $149.99.
The PhantomLink Watchdog is developed by Phantom Data Services, LLC, an innovator in the field of web alarm monitoring solutions. Visit http://www.phantomlink.com for more information.