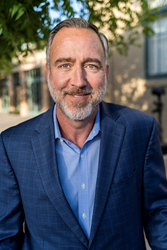 "I believe we are off to an excellent start with a winning combination here in the Bay Area,"
SAN FRANCISCO (PRWEB) June 18, 2019
Security 101, one of the nation's fastest growing security integrators, continues to expand nationally with the addition of a new office in the San Francisco Bay Area. The office will serve San Francisco and the surrounding metropolitan area, and will engineer, install, operate, monitor, manage and maintain integrated security solutions for local small, midmarket and enterprise business customers.
Veteran entrepreneur Rob Chamberlin is the latest franchise owner to join the team at Security 101. Over the past 15 years Chamberlin has founded and operated two successful technology companies – starting True Wireless in 2004 and DataXoom in 2012. He helped build True Wireless into one of the nation's largest value-added wireless resellers in the U.S. The company appeared on the San Francisco Business Times "Top 100 Fastest Growing Private Companies" list and the Inc. 5000. He continues to serve on the board of directors for DataXoom, a mobile virtual network operator. In addition to operating his businesses, Chamberlin has also advised local tech companies on marketing, PR and business development.
"I believe we are off to an excellent start with a winning combination here in the Bay Area," said Chamberlin. "I am very familiar with the ins and outs of the local business climate, and Security 101 corporate has shown us that they have the technology know-how and operational support to help make this office a huge success."
Security 101 has been interested in opening an office in the San Francisco Bay Area for some time now, according to Steve Crespo, Security 101 chief executive officer.
"It's undisputedly the tech capital of the world and our corporate skill set fits that fast-paced market perfectly," he said. "We have been looking for the right person to lead our efforts in the Bay Area, and we believe we have found that person in Rob."
The Security 101 – San Francisco Bay Area office is located at 1280 Boulevard Way Suite 204, Walnut Creek, California 94595. The phone number is 925-951-0444
About Security 101:
Security 101 protects business assets and employees through an industry-first, systems integration franchise of experts who work locally to engineer, install, operate, monitor, manage and maintain integrated security solutions. Customers have the best of both worlds — a trusted national company with local ownership. Security 101 currently has offices in more than 40 U.S. cities and is constantly expanding. For more information about Security 101, please visit us at: https://www.security101.com/
Media contact: Corey Tyriver
Email: ctyriver(at)security101.com
Phone: 561.418.7463