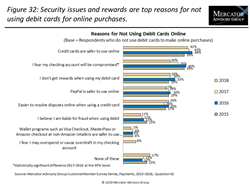 The rise in use of online and mobile commerce is heightening the need for enhanced security measures such as mobile card controls, especially for debit cards.
BOSTON (PRWEB) January 29, 2019
The latest Insight Summary Report from Mercator Advisory Group's CustomerMonitor Survey Series reveals that 54% of all respondents use debit cards for purchases and that figure has declined steadily since 2011, the year following the enactment of the Durbin Amendment. The report, U.S. Consumers and Debit: Fewer Use It for Purchases, presents the findings of an online survey of 3,002 U.S. adults conducted in June 2018.
While consumer ownership of debit cards remains strong and people who have recently opened a checking account are even more likely than average to own a debit card for transactions, the percentage of all U.S. consumers and even those that own debit cards who report using their debit card for transactions is declining.
Today, more U.S. consumers, especially seniors are more likely to use credit cards than any other payments in stores. Young adults and adults whose annual household income is less than $75,000, however, are still more likely to use debit cards than credit cards in stores.
Only half of debit card users report using their card for online purchases. The perception of greater online security with credit cards (41%), fear of checking account compromise (30%), and lack of rewards when using debit cards (30%) are the main reasons consumers do not use debit cards online.
As U.S. consumers make a greater share of purchases online and by mobile using a wider range of payment options, they often prefer credit cards to debit cards online. And with the rising use of online payment services, consumers may start to bypass traditional payment cards and keep funds in their payment service rather than transfer it back to their checking account.
"The rise in use of online and mobile commerce is heightening the need for enhanced security measures such as mobile card controls, especially for debit cards," states the author of the report, Karen Augustine, senior manager of Primary Data Services at Mercator Advisory Group, which includes the CustomerMonitor Survey Series.
Highlights of this report include:

Year-over-year trending of payment type used in households, including debit card use in the U.S. and the ways that consumers use debit cards
Comparison of debit card ownership to debit card use
Preferred payments for online purchases and reasons for not using debit cards at online retailers
Interest and use of mobile card account controls for debit and credit cards
Preferred payments in stores
Cash use and reasons for using cash
Checking account opening, methods used and checking account features including instant issuance
A shift in demographics of debit cardholders
Use of person-to-person payments by brand, frequency of use, and use cases
Use of online payment services by brand, and primary reasons for using online payment services
Awareness and use of Bitcoin
Comparison of use of financial institutions of specific payment services with use of alternative services initiated in supermarkets, discount stores, and other outlets
Types of fees paid for use of checking account
Cash spending and reasons for use of cash
Debit card rewards, type of rewards and motivation to use card more often
The report is 78 pages long and contains 40 exhibits
Companies mentioned in the report include: Amazon, American Express, Apple, BillMeLater, Bitcoin, Discover, Google, Facebook, Mastercard, MoneyGram, PayPal, PeoplePay, Popmoney, Zelle, Square, Venmo, Visa, Walmart, and Western Union.
Members of Mercator Advisory Group CustomerMonitor Survey Series Service have access to this report as well as the upcoming research for the year ahead, presentations, analyst access, and other membership benefits.
Please visit us online at http://www.mercatoradvisorygroup.com.
For more information and media inquiries, please call Mercator Advisory Group's main line: 1-781-419-1700, send email to media(at)mercatoradvisorygroup.com.
Follow us on Twitter @ http://twitter.com/MercatorAdvisor.
About Mercator Advisory Group
Mercator Advisory Group is the leading independent research and advisory services firm exclusively focused on the payments and banking industries. We deliver pragmatic and timely research and advice designed to help our clients uncover the most lucrative opportunities to maximize revenue growth and contain costs. Our clients range from the world's largest payment issuers, acquirers, processors, merchants and associations to leading technology providers and investors. Mercator Advisory Group is also the publisher of the online payments and banking news and information portal PaymentsJournal.com.