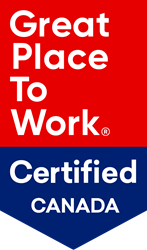 From the beginning, we have strived to make strategic investments in our people and to build a company that reflects the values of a Great Place to Work – 'building a high-trust, high-performance culture.' Today's announcement reinforces this commitment and validates our approach. We look forward to
TORONTO (PRWEB) November 01, 2018
Security Compass, a software security company that provides organizations with the knowledge, training, and technology to make software secure,is proud to announce that it has been certified as a Great Place to Work® after a thorough and independent analysis conducted by Great Place to Work Institute Canada. This certification is based on direct feedback from employees, provided as part of an extensive and anonymous survey about the workplace experience.
Security Compass is an organization dedicated to building a corporate culture and leadership
philosophy rooted in its founding principle: to help build a world where we can trust technology. The company offers challenging work and cutting-edge research in an openly collaborative environment that encourages employees to explore ideas and test new theories.
"We are incredibly honored and proud to be named a Great Place to Work," said Nish Bhalla,
CEO of Security Compass. "From the beginning, we have strived to make strategic investments
in our people and to build a company that reflects the values of a Great Place to Work –
'building a high-trust, high-performance culture.' Today's announcement reinforces this commitment and validates our approach. We look forward to successful years ahead, driven by great people, offering great products and services, at a great place to work."
As a certified Great Place to Work company, Security Compass is automatically eligible for all Best Workplaces™ lists for 12 months, including the annual Best Workplaces in Canada list projected to be published in April 2019.
To learn more about Security Compass and current job opportunities available, visit:
https://www.securitycompass.com/careers/#culture
About Great Place to Work
Great Place to Work is the global authority on high-trust, high-performance workplace cultures.
Through proprietary assessment tools, advisory services, and certification programs, Great
Place to Work recognizes the Best Workplaces™ across the world in a series of national lists
including those published by Fortune magazine (USA) and The Globe & Mail (Canada). Great Place to Work provides the benchmarks, framework, and expertise needed to create, sustain, and recognize outstanding workplace cultures. Follow Great Place to Work at
http://www.greatplacetowork.ca and on Twitter at @GPTW_Canada
About Security Compass
Security Compass is a leader in helping organizations proactively manage cybersecurity risk in
their mission-critical software without slowing down business. Through its tailored DevSecOps
solutions, its award-winning policy-to-procedure platform, SD Elements, and its verification services, which include penetration testing, threat modeling, and red teaming, Security Compass helps organizations efficiently deliver software that's secure by design. The company serves some of the world's largest enterprises, including 16 of the largest financial institutions in North America, South America, and Asia, as well as four of the largest tech companies in the world. Security Compass is privately held and headquartered in Toronto, Canada with global offices in the United States and India. Follow Security Compass on Twitter @securitycompass or visit https://www.securitycompass.com/