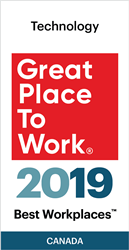 TORONTO (PRWEB) September 11, 2019
Security Compass is proud to announce that it has been named to the 2019 list of Best Workplaces™ in Technology after a thorough and independent analysis conducted by Great Place to Work®.
To be eligible for this list, organizations must have been Great Place to Work Certified™ in the past year and they must work primarily in the Technology sector. This list is based on direct feedback from employees of the hundreds of organizations that were surveyed by Great Place to Work® as part of their Trust Index Survey. The data has a 90% confidence and a plus or minus 5% margin of error.
Security Compass is an award-winning software company dedicated to helping organizations eliminate security vulnerabilities in mission-critical applications so that regulatory and compliance standards are easily met. Security Compass' corporate belief system is rooted in the idea of a world where people can trust technology. It is the company's mission to help customers manage cybersecurity risk, without slowing down their business. As a trusted information security partner, organizations can align application security with their business goals to build better, more secure software.
Throughout 2019, Security Compass has been recognized for its outstanding corporate culture, dedication to employees' wellbeing in and out of the office, and overall business success. The company ranked 14th on the Best Workplaces in Canada list in the category of companies with 100-999 employees. Security Compass was also recognized by Great Place to Work for its commitment to the advancement of women in the field of cybersecurity; for its dedication to building a diverse and inclusive workforce; and for recognizing the need for employees to nurture their minds and well as their careers. To see a complete list of Best Places to Work achievements and why Security Compass is one of Canada's Best Workplaces, visit the company's culture and career pages at: https://www.securitycompass.com/careers/#culture.
About Security Compass
Security Compass is a leader in helping customers proactively manage cybersecurity risk, without slowing down business. Offering SD Elements, Just-in-Time Training, and Enterprise Delivery Services, as well as Verification Services, Security Compass helps organizations efficiently deliver technology that's secure by design. At the core of the company's solution is its policy-to-execution software platform, SD Elements, which translates policies into actionable tasks for technical teams. Security Compass services some of the world's largest enterprises, as well as four of the largest tech companies in the world. The company is headquartered in Toronto with global offices in the United States and India. Follow Security Compass on Twitter @securitycompass or visit https://www.securitycompass.com/.
About Great Place to Work®
Great Place to Work® is the global authority on high-trust, high-performance workplace cultures. Conducting the world's largest workplace study, surveying over 8,000 organizations representing more than 10 million employees in more than 60 countries, GPTW provides tremendous understanding of effective business cultures and the increasingly complex marketplace. Through proprietary assessment tools and services, GPTW recognizes the world's Best Workplaces™ in a series of national lists including those published by The Globe & Mail (Canada) and Fortune magazine (USA). GPTW provides the benchmarks and expertise needed to create, sustain, and recognize outstanding workplaces, and it supports clients as this accelerating pace of change compels organizations to continuously adapt, innovate and thrive.