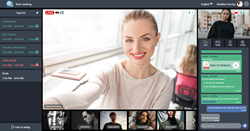 "Instead of cancelling your live event, migrate to online and provide a place where people can stay connected with zero risk to the participants' health"
NEW YORK (PRWEB) April 14, 2020
Security has become the main concern of companies around the world as video conference platforms are increasingly challenged on their privacy policies. In a recent launch, InEvent presented the Virtual Lobby, a platform for corporate hybrid events with up to 100,000 people connected simultaneously. Data is protected through a series of security policies from AICPA and other data privacy agencies in the U.S. and Europe.
Due to this crisis, the company decided to offer licenses free of charge to 172 countries listed in the CDC as most affected by the pandemic, until May 28th. About 100 companies from around the world are already on the waitlist to use the Virtual Lobby.
Virtual event with in-person experience - whilst providing technology for clients like Amazon, Coca-Cola, KPMG, Whirlpool, and others, InEvent noticed the importance of networking moments. With the lockdown imposed in different parts of the world, the solution allows event attendees to connect, talk one to one, and start relationships to close partnerships and deals. "At face-to-face events there are several lectures and panels where you can spend some time going around rooms, at InEvent we can do the same with the Virtual Lobby. It is possible to go from one session to another in just one click, quick and easy", explains Vinni Neris, Business Director and co-founder of InEvent.
Worldwide coverage - "Instead of canceling your live event, migrate online and provide a place where people can stay connected with zero risk to the participants' health. We noticed that the use of our technology was positive for our domestic customers so we decided to extend the sponsored access by InEvent to our entire worldwide operation", says Pedro Góes, CEO of InEvent.
About InEvent - The startup was founded in 2015 and expanded its operations rapidly, recording 100% annual growth over the past three years, providing its solutions to 3 million people in 2019. In 2018 the company won "Best Technology Startup for Events" award at the Event Technology Awards. The following year, it was selected to join Y Combinator, the leading startup accelerator in the world.
As a global event management platform, InEvent's software is able to aggregate fundamental data to measure ROI, control suppliers and manage budget. In addition, it leverages digital marketing tools such as website creation, registration forms, guest lists and email blasts. Used by more than 470 companies it integrates with Salesforce, Marketo and Dynamics. With the addition of Virtual Lobby, InEvent hopes to support clients both in live, virtual and hybrid events in the future.
Companies interested in finding how to get InEvent Virtual Lobby free of charge can get more information at inevent.com.