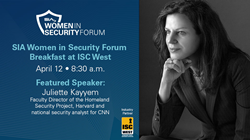 "In yet another inspiring program, the SIA Women in Security Forum is thrilled to welcome Juliette Kayyem, who has played a pivotal role in major homeland security operations, to this special event to share her knowledge and experiences with ISC West attendees." – Don Erickson, CEO, SIA
SILVER SPRING, Md. (PRWEB) March 08, 2019
The Security Industry Association (SIA) – as part of its Women in Security Forum initiative – will host a breakfast event during ISC West featuring insights from special guest Juliette Kayyem, a national leader in America's homeland security efforts.
The SIA Women in Security Forum Breakfast @ ISC West will take place Friday, April 12, in Room 1001/1004 of the Sands Convention Center at 8:30 a.m. Learn more and RSVP.
Kayyem previously served as President Obama's assistant secretary for intergovernmental affairs at the U.S. Department of Homeland Security and Massachusetts Governor Deval Patrick's homeland security advisor; she is now the CEO of lifestyle company Zemcar and the founder of Kayyem Solutions. Kayyem serves as the Belfer Lecturer in International Security at Harvard Kennedy School, teaching new leaders in emergency management and homeland security, and an academic member of SIA through her work with Harvard. Kayyem is a regular on-air national security analyst and contributor for CNN, has hosted a national security podcast called The SCIF and has been a weekly featured analyst on Boston Public Radio, 89.7 WGBH Boston's Local NPR.
Event attendees will enjoy complimentary breakfast and networking and hear Kayyem's crisis management advice, key takeaways from her domestic security career and insights for women in the security industry.
"SIA enthusiastically encourages its members and industry stakeholders to promote the advancement of women in the security industry and draw talented women to the profession," said Don Erickson, SIA CEO. "In yet another inspiring program, the SIA Women in Security Forum is thrilled to welcome Juliette Kayyem, who has played a pivotal role in major homeland security operations, to this special event to share her knowledge and experiences with ISC West attendees."
SIA's Women in Security Forum – which marked its first anniversary on International Women's Day – offers programs, professional development opportunities and networking events to support the involvement of women in the security industry. Key efforts and activities include the SIA Progress Award, which celebrates individuals who advance opportunities and pave the way to success for women in the security industry; SECURE Perspectives, a monthly column profiling successful women in the industry; an entirely women-authored issue of the SIA Technology Insights journal; and exciting networking events. The Women in Security Forum is open to SIA members, regardless of gender.
About SIA
SIA is the leading trade association for global security solution providers, with nearly 1,000 innovative member companies representing thousands of security leaders and experts who shape the future of the security industry. SIA protects and advances its members' interests by advocating pro-industry policies and legislation at the federal and state levels, creating open industry standards that enable integration, advancing industry professionalism through education and training, opening global market opportunities and collaborating with other like-minded organizations. As the premier sponsor of ISC Events expos and conferences, SIA ensures its members have access to top-level buyers and influencers, as well as unparalleled learning and network opportunities. SIA also enhances the position of its members in the security marketplace through SIA GovSummit, which brings together private industry with government decision makers, and Securing New Ground, the security industry's top executive conference for peer-to-peer networking.