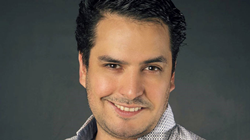 "SIA congratulates Efrain Pardo for being selected as the spring 2020 Denis R. Hebert Identity Management Scholarship winner and for his impressive accomplishments and dedication to helping to advance this foundational security space." – Don Erickson, CEO, SIA
SILVER SPRING, Md. (PRWEB) March 19, 2020
The Security Industry Association (SIA) has selected Efrain Pardo as the spring 2020 recipient of the Denis R. Hebert Identity Management Scholarship, a program presented in partnership with the Center for Identity at the University of Texas at Austin offering $5,000 scholarships for SIA members to help further their education in the field of identity management.
This scholarship program – named after Hebert, president of Feenics Inc. and a past member of SIA's Board of Directors who served as chair from 2016 to 2018 – is designed to support the professional development goals of individual SIA members and student members who specialize in identity management – a field involving the systematic control of access, authenticating users, securing assets and protecting privacy. Identity management encompasses many aspects of risk management, public policy, fraud prevention, privacy, data analysis, risk and governance, information technology and security.
Pardo – a SIA student member who has a proven track record of experience in network and information security – serves as a flight operations implementation specialist at Horizon Air. He is pursuing a Bachelor of Applied Science degree in networking and cybersecurity at Green River College and will use the scholarship funds to further his network and cybersecurity education.
"SIA congratulates Efrain Pardo for being selected as the spring 2020 Denis R. Hebert Identity Management Scholarship winner and for his impressive accomplishments and dedication to helping to advance this foundational security space," said SIA CEO Don Erickson. "SIA is proud to help cultivate members' identity management education and career development through this unique scholarship program; it is critical that we continue to build on our identity management expertise to better address identity threats, protect privacy, secure assets and foster innovation."
Prior to his time at Horizon Air, Pardo held IT, research, sales, analyst and customer service roles with Prime Strategy, the Kline Group, Venues & Events – Global Travel, IDC and IBM. He holds a master's degree in sales and IT from the United Kingdom's University of Lincoln and a bachelor's degree in industrial engineering and information systems from Monterrey Tech and is currently working toward certifications with the PM Institute and CompTIA.
The Center for Identity at the University of Texas at Austin works closely with its public-private partners, including corporations, state and federal government agencies and law enforcement, to deliver innovations for consumers, businesses and government that help them to better protect people's identities. As a critical component of its mission, the center conducts research to better understand how emerging technology such as biometrics affects consumers and organizations alike and how standards and expectations of privacy are evolving.
Applications are now open for the fall 2020 Denis R. Hebert Identity Management Scholarship. Each applicant must be either a SIA student member or a full-time employee of a SIA member company and have 1-5 years of professional experience in the security industry or a verified plan of study in the field of access and identity management. Scholarship funds must be used toward post-secondary education programs, including training courses, accredited college courses, certifications or other credentialing programs related to identity management. Learn more about the program and apply here.
About SIA
SIA is the leading trade association for global security solution providers, with over 1,000 innovative member companies representing thousands of security leaders and experts who shape the future of the security industry. SIA protects and advances its members' interests by advocating pro-industry policies and legislation at the federal and state levels, creating open industry standards that enable integration, advancing industry professionalism through education and training, opening global market opportunities and collaborating with other like-minded organizations. As the premier sponsor of ISC Events expos and conferences, SIA ensures its members have access to top-level buyers and influencers, as well as unparalleled learning and network opportunities. SIA also enhances the position of its members in the security marketplace through SIA GovSummit, which brings together private industry with government decision makers, and Securing New Ground, the security industry's top executive conference for peer-to-peer networking.