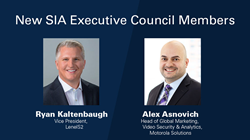 "Ryan and Alex have been outstanding leaders in the security industry, and they will bring immense value to the council as we advise the Board of Directors on behalf of SIA membership." – Ric McCullough, chair, SIA Executive Council
SILVER SPRING, Md. (PRWEB) December 17, 2020
The Security Industry Association (SIA) has appointed Ryan Kaltenbaugh – vice president at LenelS2 – and Alex Asnovich – head of global marketing, video security and analytics at Motorola Solutions – as the newest members of the SIA Executive Council.
Established in 2017, the SIA Executive Council is a panel of security industry thought leaders from SIA member companies and a forum that offers input on how market developments influence SIA's strategy and key initiatives. In their roles on the SIA Executive Council, Kaltenbaugh and Asnovich will advise the SIA Board of Directors on how to increase member value.
"I am thrilled to welcome Alex Asnovich and Ryan Kaltenbaugh to the SIA Executive Council," said Ric McCullough, chair of the SIA Executive Council. "Ryan and Alex have been outstanding leaders in the security industry, and they will bring immense value to the council as we advise the Board of Directors on behalf of SIA membership."
Asnovich oversees global marketing efforts for the Motorola Solutions video security and analytics portfolio, including Avigilon, Pelco, IndigoVision, WatchGuard, Vigilant and others. A seasoned executive in the security, life safety and technology industries, he has held leadership roles at some of the largest security and video surveillance companies. Asnovich serves as chair of SIA's Retail Security Interest Group.
Kaltenbaugh has over 20 years of experience in the security industry working for national and global security integrators and technology and software providers, including extensive experience within the federal government market. He lends his federal security expertise to SIA as an active member, a former chair of the Identity Working Group, a member of the Government Relations Committee and a regular speaker at events like SIA GovSummit.
About SIA
SIA is the leading trade association for global security solution providers, with over 1,100 innovative member companies representing thousands of security leaders and experts who shape the future of the security industry. SIA protects and advances its members' interests by advocating pro-industry policies and legislation at the federal and state levels, creating open industry standards that enable integration, advancing industry professionalism through education and training, opening global market opportunities and collaborating with other like-minded organizations. As the premier sponsor of ISC Events expos and conferences, SIA ensures its members have access to top-level buyers and influencers, as well as unparalleled learning and network opportunities. SIA also enhances the position of its members in the security marketplace through SIA GovSummit, which brings together private industry with government decision makers, and Securing New Ground, the security industry's top executive conference for peer-to-peer networking.