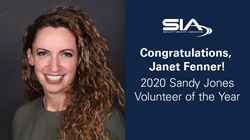 "Janet Fenner truly embodies a spirit of volunteerism at SIA through her active involvement in SIA committees, events and membership initiatives and by continually encouraging other members to grow their engagement with the association." – Scott Schafer, SIA Chairman of the Board
SILVER SPRING, Md. (PRWEB) February 07, 2020
The Security Industry Association (SIA) has selected Janet Fenner as the 2020 recipient of the Sandy Jones Volunteer of the Year Award, which recognizes SIA volunteers who have made tireless efforts to expand SIA's programs and services. SIA will present Fenner with the award at The Advance, SIA's annual membership meeting, during ISC West.
Fenner is the chief marketing officer at Intelligent Security Systems (ISS), a leading developer of security surveillance and control systems for networked digital video and audio recording, video image pattern processing and digital data transmission. Prior to her time at ISS, she held marketing and leadership roles at Dahua Technology, Hanwha Techwin America and TemTec. Fenner is a member of the SIA Board of Directors and serves as chair of SIA's Membership and Marketing Committee, where she guides SIA in creating member value – especially for the purposes of increasing member retention, new member development and overall member engagement – and serves as a valued sounding board for validating the member benefits developed by SIA's committees and staff. She is also a member of the SIA Women in Security Forum steering committee, which engages all security professionals to promote, recruit and cultivate the leadership of women for a more inclusive and diversified industry.
"Janet Fenner truly embodies a spirit of volunteerism at SIA through her active involvement in SIA committees, events and membership initiatives and by continually encouraging other members to grow their engagement with the association," said SIA Chairman of the Board Scott Schafer. "SIA commends Janet for her exceptional contributions to SIA and the security industry and for partnering with SIA to provide top-quality programs, initiatives and services, and we look forward to recognizing her for these accomplishments at The Advance."
Fenner has been continually engaged with SIA's programming, including promoting and speaking at events like the SIAThere! series of networking and professional growth events and Securing New Ground, the security industry's executive conference.
Leveraging both her role with SIA and her role as an advisory board member of Mission 500, a not-for-profit organization focused on the professional security community's efforts to assist families in need across the U.S., Fenner has played an instrumental role in fostering collaboration between SIA and Mission 500 on efforts like SIA Honors Night, a special event recognizing industry leaders' contributions to the security industry which supports the work of Mission 500 through donations to the organization's end-of-year campaign.
"I sincerely thank SIA for this acknowledgement and honor for which I am most grateful," said Fenner. "This award represents the scores of friends, colleagues and family who help make the activities and events I've been involved with both possible and meaningful – and I extend my sincerest thanks to them as well."
The Advance will take place during ISC West 2020 on Tuesday, March 17, from 10:30 to 11:30 a.m. in the Sands Convention Center in Las Vegas, Nevada. In addition to the presentation of the Sandy Jones Volunteer of the Year Award, attendees will enjoy a high-impact presentation from William Wilkins, executive director of global security operations at Valero Energy Corporation, on the chief security officer framework and key lessons for security professionals. SIA will also review key association business, exchange market intelligence for the year ahead and present the SIA Chairman's Award, Member of the Year Award and Committee Chair of the Year Award. Attendees of The Advance will receive complimentary lunch and have the opportunity to network with industry colleagues. Learn more and register to attend.
About SIA
SIA is the leading trade association for global security solution providers, with over 1,000 innovative member companies representing thousands of security leaders and experts who shape the future of the security industry. SIA protects and advances its members' interests by advocating pro-industry policies and legislation at the federal and state levels, creating open industry standards that enable integration, advancing industry professionalism through education and training, opening global market opportunities and collaborating with other like-minded organizations. As the premier sponsor of ISC Events expos and conferences, SIA ensures its members have access to top-level buyers and influencers, as well as unparalleled learning and network opportunities. SIA also enhances the position of its members in the security marketplace through SIA GovSummit, which brings together private industry with government decision makers, and Securing New Ground, the security industry's top executive conference for peer-to-peer networking.