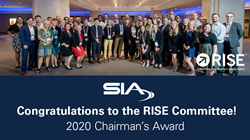 "The SIA RISE committee has had a remarkably successful year, growing its membership by record numbers, growing its outreach to young people in the security industry and supporting young professionals' career development in new and exciting ways." – Scott Schafer, SIA Chairman of the Board
SILVER SPRING, Md. (PRWEB) February 13, 2020
The Security Industry Association (SIA) has selected the SIA RISE Steering Committee as the 2020 recipient of the SIA Chairman's Award, which recognizes SIA members' diligent efforts in furthering the SIA mission and overall commitment to the association's future. SIA will present the award at The Advance, SIA's annual membership meeting, during ISC West.
The SIA RISE committee leads SIA's RISE community, which supports the advancement of young professionals in the security industry. RISE – which is open to all employees of SIA member companies under the age of 40 or those new to the industry – offers fun outings and networking events at top industry trade shows, career growth educational programs including webinars and tracks at ISC West and East, scholarships for education and professional development, thought leadership opportunities like RISE member profiles to highlight young professionals in the industry and AcceleRISE, a gathering for tomorrow's security leaders.
"The SIA RISE committee has had a remarkably successful year, growing its membership by record numbers, growing its outreach to young people in the security industry and supporting young professionals' career development in new and exciting ways," said Scott Schafer, chairman of the SIA Board of Directors. "The leaders of the committee have shown outstanding engagement of SIA members and the security industry, planned and executed innovative top-quality events and advanced the mission of fostering the careers of tomorrow's security leaders."
In the past year, SIA RISE saw a 240-percent increase in membership, expanded outreach to RISE members through launching a RISE newsletter and had a record number of applicants for the RISE Scholarship program, which awards five $3,000 scholarships each year to support SIA student members' and RISE members' education and career development goals. Additionally, the committee hosted the first-ever AcceleRISE, a gathering of tomorrow's security leaders featuring top-quality idea sharing, coaching, business skills development, networking and inspiration, Aug. 14-16 in Minneapolis, Minnesota.
"The SIA RISE steering committee has built incredible momentum and awareness around young professional career development within the security industry. By providing young security professionals with events, trainings, scholarships, networking opportunities and other resources needed to accelerate their success, we witnessed an inspiringly receptive response from a community of future leaders who are truly committed to each other's growth," said Matt Feenan, marketing specialist at Axis Communications, Inc., and chairman of the SIA RISE committee. "It's an honor that SIA has chosen to present the RISE steering committee with the prestigious Chairman's Award. We're grateful that SIA and its members is committed to fostering the next generation of security industry professionals."
SIA RISE will host a happy hour event during ISC West on Thursday, March 19, at Topgolf Las Vegas. SIA invites all young security professionals to attend this lively outing featuring golf, cocktails and networking with peers. Learn more and RSVP.
The Advance will take place during ISC West 2020 on Tuesday, March 17, from 10:30 to 11:30 a.m. in the Sands Convention Center in Las Vegas, Nevada. In addition to the presentation of the SIA Chairman's Award, attendees will enjoy a high-impact presentation from William Wilkins, executive director of global security operations at Valero Energy Corporation, on the chief security officer framework and key lessons for security professionals. SIA will also review key association business, exchange market intelligence for the year ahead and present the SIA Committee Chair of the Year Award, Member of the Year Award and Sandy Jones Volunteer of the Year Award. Attendees of The Advance will receive complimentary lunch and have the opportunity to network with industry colleagues. Learn more and register to attend.
About SIA
SIA is the leading trade association for global security solution providers, with over 1,000 innovative member companies representing thousands of security leaders and experts who shape the future of the security industry. SIA protects and advances its members' interests by advocating pro-industry policies and legislation at the federal and state levels, creating open industry standards that enable integration, advancing industry professionalism through education and training, opening global market opportunities and collaborating with other like-minded organizations. As the premier sponsor of ISC Events expos and conferences, SIA ensures its members have access to top-level buyers and influencers, as well as unparalleled learning and network opportunities. SIA also enhances the position of its members in the security marketplace through SIA GovSummit, which brings together private industry with government decision makers, and Securing New Ground, the security industry's top executive conference for peer-to-peer networking.