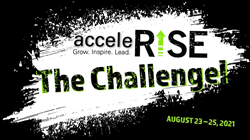 "I am so excited about AcceleRISE 2021: The Challenge! Our RISE steering committee has worked so creatively to innovate within our digital environment, and we're dedicated to delivering a conference experience that our attendees won't forget." – SIA RISE Chair Erin Mann
SILVER SPRING, Md. (PRWEB) May 18, 2021
The Security Industry Association (SIA) has announced details for the 2021 AcceleRISE conference – an essential experience hosted by SIA's RISE community for young professionals in the security industry – taking place virtually Aug. 23-25. The 2021 AcceleRISE event will challenge tomorrow's security leaders to test their limits, escape their comfort zones and grow their industry expertise.
"I am so excited about AcceleRISE 2021: The Challenge! Our RISE steering committee has worked so creatively to innovate within our digital environment, and we're dedicated to delivering a conference experience that our attendees won't forget," said SIA RISE Chair Erin Mann. "As we're designing the agenda, we're tailoring the event to be engaging, impactful and meaningful for our attendees, and we're excited to help connect with new and returning faces throughout the week."
AcceleRISE was created for rising stars in the security industry and is different from a standard conference. The 2021 event will put young professionals' preconceptions, boundaries and industry know-how to the test and teach them how to maximize their leadership potential. Session topics will include:

The Art of Hiring & Firing: What New Managers Need to Know
Ethical Uses of Technology: Key Considerations for Today's Leaders
Generational Work Styles: Building Trust & Effective Communication
How AI & Predictive Analytics Are Changing Security Operations
Privacy Regulations That Every Rising Security Professional Needs to Know
Smooth Operator: Tips & Tricks for Selling Security
Attendees will have the chance to make valuable connections with other young industry professionals and enjoy fun virtual happy hours, trivia and more. As part of 2021's "The Challenge" theme, attendees will also be able to compete for points and prizes throughout the experience.
AcceleRISE 2021 is made possible thanks to support from sponsors and SIA member companies who encourage their teams to attend.
"Our mission at Group337, along with our community platform, The Inside, is to help the security industry accelerate growth with a vision for a more dynamic, forward-leaning, growth-oriented, inclusive and relevant industry," said Lee Odess, CEO of Group337. "No better place aligns with our mission and vision than SIA's AcceleRISE. Young professionals are the today and tomorrow leaders of our industry, and we are honored to have the opportunity to participate as the premier sponsor."
AcceleRISE 2021 is supported by Premier Sponsor Group337; Full Conference Sponsors ADT, Allegion, Axis Communications, BCD International, Northland Controls and Salto; and Event Sponsors AMAG Technology, Brivo, Cam-Dex Security Corporation, ISC Security Events and WeSuite.
SIA RISE is a community that fosters the careers of young professionals in the security industry. In addition to hosting AcceleRISE, the SIA RISE community offers fun in-person and virtual networking events, mentorship opportunities through the Talent Inclusion Mentorship Education (TIME) program, career growth webinars and e-learning, scholarships for use toward education and professional development and career tracks at top trade shows. RISE membership is available to all employees at SIA member companies who are young professionals under 40 or have been in the security industry for less than two years. Learn more about SIA RISE and sign up to join.
Early-bird pricing for AcceleRISE 2021 starts at just $149 for SIA members and only $49 for student members. Attendees must register by June 11 to unlock this special introductory rate. Learn more about AcceleRISE and register to attend.
About SIA
SIA is the leading trade association for global security solution providers, with over 1,100 innovative member companies representing thousands of security leaders and experts who shape the future of the security industry. SIA protects and advances its members' interests by advocating pro-industry policies and legislation at the federal and state levels, creating open industry standards that enable integration, advancing industry professionalism through learning and development, opening global market opportunities and collaborating with other like-minded organizations. As the premier sponsor of ISC Events expos and conferences, SIA ensures its members have access to top-level buyers and influencers, as well as unparalleled learning and network opportunities. SIA also enhances the position of its members in the security marketplace through SIA GovSummit, which brings together private industry with government decision makers, and Securing New Ground, the security industry's top executive conference for peer-to-peer networking.