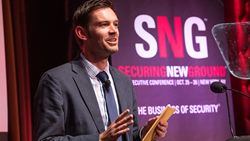 "SNG is a top-tier executive networking program where security industry luminaries gather to dive deep into the business of security." – Don Erickson, CEO, SIA
SILVER SPRING, Md. (PRWEB) December 03, 2018
The Security Industry Association (SIA) has announced that the 2019 Securing New Ground (SNG) conference will be held Oct. 29-30 at the Grand Hyatt New York. Each year at SNG, the security industry's biggest players, brightest minds and most driven entrepreneurs come together in New York City for this executive conference featuring high-quality intelligence sharing, education, analysis and networking.
SNG, founded in 1996, gathers 250+ senior-level industry leaders and financial partners each year and highlights major trends like artificial intelligence, cybersecurity and mobile connectivity and business focuses like funding and investment, strategic acquisitions and purchasing trends.
"SNG is a top-tier executive networking program where security industry luminaries gather to dive deep into the business of security," said Don Erickson, SIA's CEO. "We look forward to continuing to inspire leaders at SNG 2019 as we explore current and future trends, the potential of the industry and how the business is changing."
The 2018 conference brought together industry leaders to discuss topics and concerns like:
How businesses are adapting to changing buyer preferences and economic and even political conditions
Security technology adoption in smart cities and advanced law enforcement and public safety systems
Workforce development challenges and the value of diversity to business growth
The risks, rewards and adoption paths of cloud solutions in the security industry
How the importance of cybersecurity is impacting physical security technology deployments
Changes and challenges in the residential security and monitoring industries
SNG 2018 also featured keynote remarks from Jerome Pickett, senior vice president and chief security officer at the National Basketball Association, and Valerie Thomas, renowned cybersecurity expert and executive consultant at Securicon.
At SNG, trends are spotted, connections are formed and minds are opened. Learn more about SNG 2019 and how you can attend.
About SIA
SIA (securityindustry.org) is the leading trade association for global security solution providers, with more than 900 innovative member companies representing thousands of security leaders and experts who shape the future of the security industry. SIA protects and advances its members' interests by advocating pro-industry policies and legislation at the federal and state levels, creating open industry standards that enable integration, advancing industry professionalism through education and training, opening global market opportunities and collaborating with other like-minded organizations. As a proud sponsor of ISC Events expos and conferences, SIA ensures its members have access to top-level buyers and influencers, as well as unparalleled learning and network opportunities. SIA also enhances the position of its members in the security marketplace through SIA Government Summit, which brings together private industry with government decision makers, and Securing New Ground, the security industry's top executive conference for peer-to-peer networking.