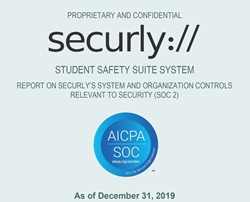 While we of course hold an immense responsibility in protecting students via these services, we hold an equally critical responsibility of protecting the students' data we collect to enable these services.
SAN JOSE, Calif. (PRWEB) April 22, 2020
Securly, the market leader in end-to-end comprehensive student safety, today announced the completion of a Service Organization Control (SOC) 2 Type 1 Audit Certification. Conducted by a leading national accounting and advisory firm, the audit affirms that Securly's information security practices, policies, procedures, and operations meet the SOC 2 standards for security, availability, and confidentiality.
As school districts increasingly move to the cloud to perform student-safety and online-learning activities that are core to their operations and strategy, there is a need for more trust and transparency into such cloud service providers' internal operations and processes. School districts are extremely wary of sharing student activity reports and academic data with third parties. However, school districts are seeing the need to rely on cloud based service providers that specialize in services such as network filtering, network security audits, anonymous tip lines and 24x7 managed security. Relying on such specialized services allows schools to focus on learning and education. By working with vendors that have passed SOC2 audits, school administrators and leadership can manage the risk from delegation of such critical activities.
With this SOC2 Type 1 audit, the auditors examined Securly's description of its Student Safety Suite System and the suitability of the design of controls stated in the description as of December 31, 2019, to provide reasonable assurance that Securly's service commitments and system requirements were achieved based on the trust services criteria relevant to security set forth in the AICPA SOC 2 TSP Section 100, 2017 Trust Services Principles and Criteria for Security, Availability, Processing Integrity, Confidentiality, and Privacy. Securly's SOC 2 report verifies the existence of internal controls which have been designed and implemented to meet the requirements for the security principles set forth in the Trust Services Principles and Criteria for Security. It provides a thorough review of how Securly's internal controls affect the security, availability, and processing integrity of the systems it uses to process students' data, and the confidentiality and privacy of the information processed by these systems.
"As the only vendor in education that provides end to end student safety covering web-filtering, network audits, anonymous tips, 24x7 monitoring, visitor management and identity checks, emergency notifications, and parental controls for personal and school 1:1 devices, we have felt that while we of course hold an immense responsibility in protecting students via these services, we hold an equally critical responsibility of protecting the students' data we collect to enable these services. We have more information about the students than Google, Facebook, Twitter, Instagram, Wikipedia combined, and frequently, our algorithms and data detect patterns that even a given student's own parents and best friends are unaware of", explains Vinay Mahadik, co-founder & CEO of Securly. "We have been working tirelessly for most of 2019 tightening up our operations from background checks of employees, to internal IT-security policies, to encryption of student-data in-transit and at-rest, to running vulnerability scans, fixing security bugs, reporting on compliance and security to the Board of Directors, etc. The SOC2 report to us and to our customers should feel like a multi-point inspection report that Securly just got from someone who looked under the hood of our fairly complex student-safety metaphorical engine."
Securly has maintained compliance with other federal and state data privacy requirements including GDPR, CCPA, COPPA, and FERPA. The key difference between a SOC 2 report and these compliance requirements is that the latter typically are not audited, and there is a wide range of standards companies may have in attesting compliance. SOC 2 is an organizational control audit that third party auditors conduct and attest to. With the SOC 2 Type 1 audit, Securly is signaling enterprise class controls that frequently Education Technology startups do not invest effort in.
About Securly
Securly, the leader in K-12 student safety, has a mission to keep students safe and productive at school and at home. The company offers the most comprehensive end-to-end student safety and device management solution for K-12 districts. Wherever digital devices are used, Securly's cloud-based products work to filter content, manage apps, ensure compliance, alert schools to cyberbullying and self-harm, while engaging teachers, students, and parents. Securly's automation and AI sentiment analysis, combined with 24/7 human monitoring by trained safety experts, protect over 10 million students each day. Securly is headquartered in San Jose, California with offices across three continents.
For more information, visit http://www.securly.com