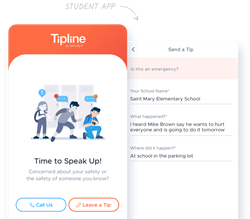 Securly's vision is that of having a bi-directional messaging layer across the district with tips and emergency notifications flowing across the various touch points Securly has through its student safety central nervous system.
SAN JOSE, Calif. (PRWEB) April 28, 2020
Securly, the market leader in end-to-end comprehensive student safety & device management, today announced the immediate availability of its iOS and Android mobile apps to support its anonymous Tipline service. This release makes its industry-leading Tipline service support emails, calls, web-forms, and now mobile app based messages as the top ways by which the school community and students can submit tips anonymously.
Securly was founded in 2013 with the mission of keeping K-12 students safe in schools & at home. The flagship product Filter continues to be the only web filtering technology that brings a true cloud appliance-replacement to schools at prices that are education-friendly. The Auditor product extends the monitoring to emails, docs, and drive for GSuite and Office 365. Securly then pioneered the Delegated Admins and Home (patented) solutions to allow school administrators and parents to have visibility and control on kids' online activities in school and at home. Securly then built an Artificial Intelligence layer to automate the daily monitoring of millions of emails and online activities and then flagging any disturbing activities such as social media posts related to bullying, school shooting threats etc. Given the high-stakes involved, in order to not rely solely on software algorithms, Securly then launched 24, it's human-assisted Artificial Intelligence service that allows trained staff members to respond to activities that AI algorithms flag as needing review.
Tipline is the latest addition to Securly's student safety portfolio - that extends the vectors monitored by the 24 team to also include anonymous tips provided by students, staff, parents, and anyone in the school community. Tips can be provided year-round 24x7 via email, phone (1-833-300-STOP) and online web-forms. Information provided is kept anonymous from the schools, and passed along to the schools only as an aggregated report based on an investigation performed by a trained Securly 24 team member. Schools benefit from not having to chase false alarms, and instead having actionable credible information to act on. Securly's unprecedented visibility into the entire schools web-browsing and email activity further allows for a uniquely comprehensive reporting. For example, once a one-off tip is received, a 24 analyst could look at the tip and find that the same kid has been reading dark poems, watching questionable videos, and showing progressively increased signs of antisocial behavior, and has been flagged by Securly's AI algorithms as at-risk but still not at a risk level that, without an anonymous tip, considered actionable.
With today's announcement, Securly allows school administrators to make iOS and Android mobile apps be available to the school community - including students, staff and parents - to submit these anonymous tips right from their mobile phones. IT administrators had asked for a way by which these apps can be pushed to all managed devices in the school district, and this was Securly's first step towards facilitating a district-wide roll-out of the Tipline service.
"Our vision is that of having a bi-directional messaging layer across the district with tips and emergency notifications flowing across the various touch points Securly has through its student safety central nervous system", says Vinay Mahadik, co-founder & CEO of Securly. "For example, parents are on the Securly Home app, while students have the Tipline and Go apps on their personal or school issued 1:1 devices. In the near future, all of these apps will be capable of receiving emergency notifications from the district, and submitting anonymous tips to the district."
About Securly
Securly, the leader in K-12 student safety, has a mission to keep students safe and productive at school and at home. The company offers the most comprehensive end-to-end student safety and device management solution for K-12 districts. Wherever digital devices are used, Securly's cloud-based products work to filter content, manage apps, ensure compliance, alert schools to cyberbullying and self-harm, while engaging teachers, students, and parents. Securly's automation and AI sentiment analysis, combined with 24/7 human monitoring by trained safety experts, protect over 10 million students each day. Securly is headquartered in San Jose, California with offices across three continents.
For more information, visit https://www.securly.com or email sales@securly.com