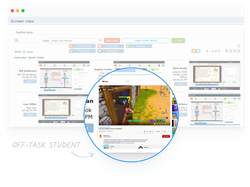 Classroom & MDM now support 100% cloud-based classroom management support for education's top four platforms - iPad, Chromebook, Windows and Mac.
SAN JOSE, Calif. (PRWEB) April 24, 2020
Securly, the market leader in end-to-end comprehensive student safety & device management, today announced the early availability of its Classroom (formerly Chrometools) product for the Windows and Mac platforms. This release makes its industry-leading product support all the top platforms on the market.
School districts have always had a heterogeneous mix of devices ranging from iPad and Android tablets for the younger students, to Chromebook, Windows and Mac desktops for middle & high schoolers and staff. Securly made its foray into the Classroom management space by acquiring the Classroom & MDM products from TechPilot Labs, an Atlanta-based startup founded by Jarrett Volzer, who now serves as Securly's General Manager of Classroom and MDM product lines. At the time of the acquisition, Securly was focused on the Apple iPad and Google Chromebook as the go-to-market classroom-platforms of choice.
The Classroom product allows teachers to better manage a classroom with students on their Google Chromebooks. A teacher can push website URLs to the entire classroom, lock all the screens temporarily, create a locked-down session where browsing is restricted to only certain sites, monitor the entire classroom session remotely using thumbnail screenshots of pages that are open on the student devices, and close unneeded tabs. Teachers therefore benefit from being able to monitor and guide the students during an online Chromebook classroom session. The MDM product achieves similar classroom management functionality for the Apple iPad devices managed by the school.
After seeing dramatic success with this product & acquisition, where Classroom is now the second most sold product for Securly among the various safety and device management solutions it offers, Securly saw a lot of demand for classroom management for Windows and Mac based laptops as well.
"While Chromebooks still account for a large percentage of the student deployments, our customers have told us that they have a number of deployments of Mac and Windows devices too, for which teachers would also benefit from powerful classroom management tools. Porting our popular Classroom product to these platforms just made sense. When added to the classroom management tools we provide to iPads through our MDM offering, we now support all four popular student platforms," Volzer explained.
School districts can now purchase Securly Classroom licenses on a per-student or a per-device basis and cover any of the supported operating systems, or bundle Classroom with Securly's other student safety and device management solutions for a comprehensive end-to-end solution.
Securly pioneered 100% cloud-based device-agnostic filtering & student-safety for schools starting with its flagship Filter product founded in 2013. This release brings its classroom-management solution to also become device-agnostic and support all the four top platforms in education - iPads, Chromebook, Windows, and Mac.
Securly is accepting early interests for Classroom for Windows & Mac. Please contact sales via its website http://www.securly.com or emailing sales@securly.com
About Securly
Securly, the leader in K-12 student safety, has a mission to keep students safe and productive at school and at home. The company offers the most comprehensive end-to-end student safety and device management solution for K-12 districts. Wherever digital devices are used, Securly's cloud-based products work to filter content, manage apps, ensure compliance, alert schools to cyberbullying and self-harm, while engaging teachers, students, and parents. Securly's automation and AI sentiment analysis, combined with 24/7 human monitoring by trained safety experts, protect over 10 million students each day. Securly is headquartered in San Jose, California with offices across three continents.
For more information, visit http://www.securly.com