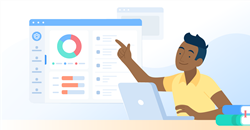 "The Nucleus code base was built from the ground up to be scalable and extensible," says Paul Katcher, Product Manager.
SAN JOSE, Calif. (PRWEB) August 24, 2020
Securly, the Silicon Valley-based student safety company, today announced the release of Nucleus, an all-new user interface (UI) for its student safety suite. Inspired by feedback from its customers, Securly developed the new UI to meet the needs of school IT administrators and other EdTech professionals.
With new solutions being added to Securly's portfolio, there was a need to redesign the original UI to unify all of its products in a single, scalable interface.
Securly started its UI refresh by developing a new design system that standardized flows and information architecture across the interface, ensuring users would have a consistent, familiar experience in the platform, across all products.
Since the UI needed to be able to scale with Securly's ever-growing product suite and the continually evolving needs of its customers, the engineering team selected an AngularJS framework with RESTful APIs. "The Nucleus code base was built from the ground up to be scalable and extensible," says Paul Katcher, Product Manager. "This high standard of code fidelity means that new components can be built faster and maintain a higher quality of performance. These components are designed to be interchangeable so that all products will now look and feel the same with decreased time to production."
Building Nucleus on Angular allowed the engineering team to create reusable components that can be used to build future Securly enhancements and products quickly, positioning Securly for unprecedented scale in its engineering operations. The design and engineering teams implemented several UX enhancements based on user feedback, including:

More extensive analytics, including new dashboard charts such as 'Top videos', 'Top searches', and 'Policy traffic'
New activity feeds, featuring flagged activity in real-time
A device location map, enabling IT administrators to pinpoint the location of a device if a student's in crisis
Support for cloning policies, simplifying the policy creation process for IT administrators
Securly's engineering team implemented a product experience tool in order to lay the foundation for a more interactive user experience moving forward. This will allow Securly to engage more deeply with its customers via in-depth product tours, user feedback surveys, and other engagements designed to improve the customer experience.
Schools interested in learning more about Securly and its new UI can learn more here https://www.securly.com/lp/nucleus.
About Securly
Securly is the end-to-end student safety and digital experience management platform for K–12.
Our 360º approach keeps students safe, secure, and productive—everywhere, every hour of the day, on every device. Securly's unified solutions address the student digital experience from all angles, with industry-leading AI and cloud-based technologies. With a deeply rooted purpose and tireless commitment to innovation, we deliver a ubiquitous experience to help students learn, engage, explore, grow, and live securely.
Always connected, always protected.
For more information, visit http://www.securly.com.