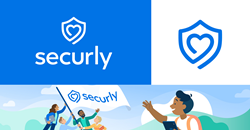 SAN JOSE, Calif. (PRWEB) July 13, 2020
Securly, a privately held, Silicon Valley-based startup, today announced a logo refresh, a new logomark, and an accompanying mascot that are all designed to differentiate its identity from a fragmented ecosystem.
Background
Securly was founded in 2013 with a mission of keeping children safe online. The founders were enterprise security veterans, and picked the K-12 education space as it was underserved and ripe for innovation & impact. The company originally launched a single product that is a convergence of the best enterprise security technologies in cloud-based web-filtering - a DNS based service that can block adult content, and a selective full-functional cloud-based proxy that can granularly inspect communications to, for example, identify bullying & self-harm related sentiment in search & social-media. Securly's original logo mark "securly://" was therefore a play on the protocol prefix of "https://" that precedes website URLs, and was designed to appeal to school IT administrators as "a service that kept web browsing secure".
With a strong enterprise security & engineering DNA in its leadership & founding team, and a scaled out engineering operation with over one-third of its headcount at any point of time being engineers, over a few short years, Securly moved from being a single product company to one with over 10 products:

Student safety: Filter, Auditor, Tipline, 24, Visitor*, Messenger*
1:1 Management: MDM & Classroom
Parental integration: Home, Go, Hub, Parent email reports, Advisor*
*to be launched soon
Need for a fresh brand identity
As Securly quickly evolved into a company that engineered and launched an array of products across the student safety & device management spectrum, it found itself operating in multiple product categories all at once. This created a need for a distinct brand identity that was relatable and identifiable in a fragmented ecosystem of product categories, with numerous vendors competing in each category. It became clear that Securly needed the following:
A logo refresh that transcended an IT admin focus to now appeal to educators & other school administrators as well
A new logomark that wasn't focused on just web filtering, but also the broader mission of student wellness & success, and finally
A mascot that expressed the idea of Securly being the pioneers in this space, unifying the various product categories & the various stakeholders in this broader mission.
The brand identity refresh project
A brand-identity mark refresh project ensued. A team of top designers first interviewed various stakeholders inside and outside the company on how they perceived Securly's mission to see what themes and emotions stood out. They then sketched, reviewed, and collaborated over many months before the designs were finalized.
New logo mark that represents safety & empathy
First, the company finalized a logomark that stood out in the ecosystem. The new logo - a heart within a shield around it - is the brainchild of Chief Design Officer and Securly co-founder, Nikita Chikate. "Once we finished our emotion mapping exercise, we found words and emotions like care and empathy were being used a lot by the stakeholders, but our brand identity did not reflect that in any way", she explained. The new logomark signifies both safety and empathy. "If you stare at the logomark long enough, it seems to morph into a silhouette of a person snugly wrapping his/her hands around a heart as if to protect it," she added.
A new mascot that represents the theme of: Pioneers. First. Leaders.
Next, the company picked as their mascot the image of a small group of educators, administrators, and parents raising a flag in triumph. This flag represents the pioneering efforts of these stakeholders in working with Securly's innovative and category-unifying solutions toward student safety & success.
"We intend to use this flag-based mascot across our brand presence, and have our target audience subliminally associate the image with Securly as being the leader in student safety & device management," said Vinay Mahadik, co-founder & CEO of Securly.
Refreshed logo that appeals to Educators & Administrators
As a final step, the company shortened its logo to just "securly" dropping the hyper-text suffix present in its original logo "securly://" to be more relatable to a broader audience than just the school district IT administrators - including parents, teachers, facility managers, and school leadership. This also created more room for the logomark the team wanted to draw attention to. "We even added softer edges across the logo and logomark to align with the gentle caring side of our technology," explained Chikate.
The new logo, logomark and mascot are being rolled out actively, and are expected to be live and consistently available across all media by the end of this year.
About Securly
Securly, the leader in K-12 student safety, has a mission to keep students safe and productive at school and at home. The company offers the most comprehensive end-to-end student safety and device management solution for K-12 districts. Wherever digital devices are used, Securly's cloud-based products work to filter content, manage apps, ensure compliance, alert schools to cyberbullying and self-harm, while engaging teachers, students, and parents. Securly's automation and AI sentiment analysis, combined with 24/7 human monitoring by trained safety experts, protect over 10 million students each day. Securly is headquartered in San Jose, California with offices across three continents.
For more information, visit http://www.securly.com.