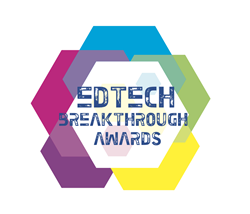 Securly's focus on building AI that helps monitor student activities to help increase safety and prevent acts of school violence is a worthy goal and we congratulate Securly on their impressive success in this area
LOS ANGELES (PRWEB) June 24, 2020
EdTech Breakthrough, a leading market intelligence organization that recognizes the top companies and solutions in the global educational technology market, today announced that Securly, the market leader in end-to-end comprehensive student safety & device management, has been selected as the winner of its "Best Use of Artificial Intelligence in Education" award in the second annual EdTech Breakthrough Awards program.
Securly 360 Cloud™ platform is a complete end-to-end student safety and device management solution that helps students stay safe online and focused on learning. Securly's advanced AI-based filtering technology significantly decreases the likelihood of students viewing inappropriate content while also increasing the awareness schools have into active and potential incidents of cyberbullying, self-harm or violence.
While the majority of the educational technology industry approaches student safety by relying on catalogs of keyword searches to alert schools to signs of troubling behavior. This approach results in districts being inundated with false positives, all of which needed to be followed up on to ensure the safety of the students involved. Securly "breaks through" the crowd with a unique approach that leverages advanced AI technology to reduce false positive by not only learning certain terms, but better understanding the mindset of the student in a particular moment.
"AI is penetrating every facet of the technology industry and it certainly has tremendous potential in the field of EdTech, with hundreds of our award nominees this year incorporating AI into their products in various forms," said James Johnson, managing director, EdTech Breakthrough. "Securly's focus on building AI that helps monitor student activities to help increase safety and prevent acts of school violence is a worthy goal and we congratulate Securly on their impressive success in this area. Congratulations to the entire Securly team on their well-deserved 2020 EdTech Breakthrough Award."
The mission of the EdTech Breakthrough Awards is to honor excellence and recognize the innovation, hard work and success in a range of educational technology categories, including Student Engagement, School Administration, Adaptive Learning, STEM Education, e-Learning, Career Preparation and many more. This year's program attracted more than 1,750 nominations from over 15 different countries throughout the world.
"Each day, Securly's AI filters through over three million emails and over 13 million web searches for signs of violence, cyberbullying, and the emotional health of millions of US students," said Vinay Mahadik, CEO and co-founder of Securly. "Securly set out to develop a continuously adapting and learning AI that would produce a lot less false positives. The result is NLP which allows our AI to minimize those false positives and in the end, delivering real-world results that is literally saving thousands of lives. We are proud to receive this 2020 EdTech Breakthrough Award in recognition of our advanced technology and innovative approach to student safety."
Securly's Natural Language Processing (NLP) analyzes context, identifies slang or colloquial speech with or without typos, and analyzes key phrase and keyword search results across all digital content. This allows for the broadest monitoring and scanning of web searches, documents, content in drives, social media, emails and nudity detection of their attachments. The machine learning algorithms are trained by safety specialists using safe and unsafe content. Once the algorithms find content that is disturbing, student safety experts are able to evaluate further the context behind the activity and reach out to both schools and authorities as needed. Adding a human touch, their team of highly-trained specialists teaches the AI to recognize patterns and perform risk assessments—24 hours a day, 7 days a week.
####
About EdTech Breakthrough
Part of Tech Breakthrough, a leading market intelligence and recognition platform for global technology innovation and leadership, the EdTech Breakthrough Awards program is devoted to honoring excellence in educational technology products, companies and people. The EdTech Breakthrough Awards provide a platform for public recognition around the achievements of breakthrough educational technology in categories including e-learning, student engagement, school administration, career preparation, language learning, STEM and more. For more information, visit EdTechBreakthrough.com.
About Securly
Securly, the leader in K-12 student safety, has a mission to keep students safe and productive at school and at home. The company offers the most comprehensive end-to-end student safety and device management solution for K-12 districts. Wherever digital devices are used, Securly's cloud-based products work to filter content, manage apps, ensure compliance, alert schools to cyberbullying and self-harm, while engaging teachers, students, and parents. Securly's automation and AI sentiment analysis, combined with 24/7 human monitoring by trained safety experts, protect over 10 million students each day. Securly is headquartered in San Jose, California with offices across three continents. For more information, visit securly.com.