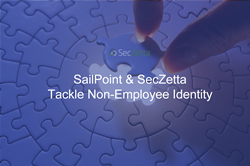 "Having SecZetta's solutions ensures good people data, which means good access management."
BOSTON (PRWEB) August 01, 2019
SecZetta today announced that SecZetta's comprehensive solution that delivers non-employee identity risk and lifecycle management capabilities has been certified and integrated with SailPoint's IdentityNowTM. This newly announced integration goes along with the already successful SailPoint IdentityIQ integration as part of SecZetta's membership in the SailPoint Identity+ Alliance program. Via this certified integration, the joint offering delivers a robust non-employee identity and access lifecycle solution to the enterprise. SecZetta products extend Identity Governance programs to include an authoritative source for non-employee identity risk and lifecycle management.
Increased use of partners and evolving regulations are forcing companies to reconsider how they address the complex process of bringing non-employees into the enterprise. While identities can be created and stored within an identity management system, the arduous task of collecting information about, building relationships, building risk profiles, and managing the people for whom the identity was created can only be done with a system purpose built.
The integration of SecZetta's solutions with SailPoint IdentityNow will give organizations a powerful business process, risk management, and relationship engine that ensures any identity type can be properly on-boarded and maintained, appropriately granting and governing access, even to non-employees not in human resource (HR) systems.
"With this combination of solutions, we are extremely excited to offer enterprises the ability to cover all employee and non-employee use cases within one certified, integrated platform. As the non-employee landscape expands, becoming part of SailPoint's industry-leading cloud identity governance ecosystem allows our integrated platform to solve a huge gap in the market, said Jeremy Rohrs, VP, Global Strategic Channels & Alliances, SecZetta."
"Today's businesses must ensure that the right people have the right access to the right resources across the enterprise, while meeting complex business and compliance requirements," said Joe Gottlieb, SVP, Strategy & Business Development at SailPoint. "For our joint customers, the use of SecZetta's integration with SailPoint's IdentityNow will ease the inclusion of non-employee personnel in our joint customers' identity governance programs."
Benefits of the integration to joint customers include:

Certified integration with SailPoint IdentityNow
Centralized single source of record for all non-employees
Increased visibility into global non-employee identities
Reduced risk
Effective governance of non-employee identities
Lower management costs
To learn more about SecZetta, please visit https://www.seczetta.com/products. For more information about SailPoint, please visit https://www.sailpoint.com/.
About SecZetta
SecZetta is a leading provider of non-employee identity risk and lifecycle management software solutions. SecZetta's solutions are utilized by companies around the globe to manage non-employee identity risk. Create, control and respond to third party identity requirements and processes, meet compliance demands and minimize breaches. SecZetta products extend IGA programs to include identity life cycle capabilities to manage identity risk and lifecycle processes for nonemployees, enable collaboration with partners and vendors, and merge identity data from multiple sources to maintain global identities in a single authoritative source. To learn more please visit http://www.seczetta.com/products or @seczetta.
Media Contact
Jason Hobart
info@seczetta.com
781-832-0767 x 104