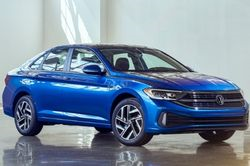 WOODBRIDGE, Va. (PRWEB) November 08, 2022
Drivers who are fond of sedans and want one of the latest luxury models should check out the latest release from Volkswagen. The brand has released a new version of its popular Jetta Sport. The 2023 Volkswagen Jetta Sport is now available for purchase in the Woodbridge area at the Karen Radley Volkswagen dealership. This sedan has a stylish exterior body that is sleek and slender, offering an elegant overall look.
Interested buyers can explore the latest 2023 Volkswagen Jetta Sport through the dealership's well-detailed website. They can learn the sedan's technical specifications and other vital details. Drivers can also visit the dealership directly and test drive this sporty sedan. This is a foolproof way for drivers to understand how vehicles perform on the road in real time. This also allows them to check out the numerous features and upgrades packed into the car.
Please log on to the karenradleyvw.com website to learn about the various Volkswagen deals and coupons available at the Karen Radley Volkswagen dealership. For detailed information on the stunning 2023 Volkswagen Jetta Sport, kindly meet the dealership team at Karen Radley Volkswagen 14700 Jefferson Davis Highway, Woodbridge, VA 22191 or contact them by phone at 877-461-1230. The dealership team is always ready to help its customers.