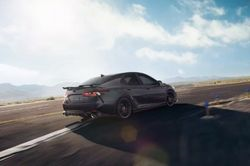 JANESVILLE, Wis. (PRWEB) February 14, 2023
Drivers around Janesville, Wisconsin, who are planning to purchase a new sedan this year can now buy the new Toyota Camry. The 2023 Toyota Camry sedan is available at the Hesser Toyota dealership. Designed to attract drivers who love sporty and powerful sedans, the 2023 Camry offers balanced capability and performance. Its fuel mileage efficiency is one of the best among new-age sedans.
Interested buyers can check out the 2023 Toyota Camry via the dealership's website and learn more about its new upgrades and technical specs. They can test drive this new Toyota sedan when they visit the dealership physically. Test driving helps them understand how the vehicle performs in real time. It also allows them to explore the numerous features available in the vehicle's cabin space. The sedan comes with a 2.5L 4-Cyl. Dynamic Force engine that offers massive power and performance. Buyers are encouraged to get in touch with the dealership's sales team for more information on the 2023 Toyota Camry.
Customers can log on to the hessertoyota.com website to learn about the new Toyota vehicles and services available at the Hesser Toyota dealership. For detailed information on the stylish 2023 Toyota Camry, they are requested to meet the dealership team at Hesser Toyota, 1811 Humes Rd., Janesville, WI 53545 or contact them by phone at 608-754-7754.