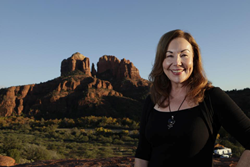 We believe real and lasting change is possible.
SEDONA, Ariz. (PRWEB) August 18, 2019
Inc. Magazine has released its annual list of fastest-growing companies – Inc. 5000 – and Sedona Soul Adventures is now part of this prestigious list.
They join Microsoft, Dell, Domino's Pizza, Pandora, Timberland, LinkedIn, Yelp, Zillow and many other well-known names who first gained national exposure as honorees on the Inc. 5000.
Founder and international best-selling author of "The Journey to Happy," Debra Stangl, says, "As part of Inc. 5000 for 2019, we are the #100 fastest growing company in Arizona and the #343 fastest growing company in the Health category, and from what I can tell, we are the only company on the entire list doing the type of alternative work that we do. We attribute our incredible growth to our amazing people and our unique processes for personal transformation."
"Since 2002, we've had over 9,000 people experience our spiritual retreats, which are custom-designed for each individual or couple in Sedona, AZ., and the results are nothing short of phenomenal, with some people coming back two, three or even more times to deepen their transformation and continue to take their lives to a whole new level."
Stangl was a divorce attorney in Omaha, Nebraska for over 20 years until a life changing experience in Sedona in 1999 compelled her to move her life in a different direction. She closed her law practice and started coming to Sedona for months at a time, working with different practitioners, doing her own personal healing. She moved to Sedona in 2001 and started Sedona Soul Adventures "because I wanted other people to be able to experience the same incredible transformations that changed my life, and I feel so blessed that this is what has happened. We have thousands and thousands of testimonials from our clients saying, 'Sedona Soul Adventures changed my life' or 'Sedona Soul Adventures saved our marriage.' After divorcing people for over 20 years, it's really gratifying to now have spent 17 years helping them stay together!"
Sedona Soul Adventures has released two special reports, "The Sedona Guide to Spiritual Retreats" and "The Sedona Guide to Couples Retreats." CEO Stangl said, "These are very unusual reports, not like most you will see." She explained that the new guides help people determine if a spiritual retreat really is what they need right now. She also said there are major life scenarios that spiritual retreats are perfect for resolving. These reports can start the process to help people identify which major life scenario they are facing and what they can do about it.
The guides also explain why Sedona is the premier destination for people seeking spiritual healing and fulfillment. Part of it, Stangl explained, is that the world's most gifted healers and spiritual teachers flock here to Sedona for an unusual reason that is revealed in the report.
The guides also discuss 3 rarely talked about reasons why group retreats often prevent significant spiritual growth and healing. "This is important" said Stangl, "because it explains why group retreats can be a poor investment of time and money, despite appearing 'affordable.'"
In this day and age, when people want to make sure they are getting the biggest bang for their buck, the most important thing is for people to ensure that their spiritual retreat delivers the results they want. Stangl said the report contains a time-proven strategy to quickly pinpoint that this will happen.
"Sedona Soul Adventures is unique,'' Stangl said, "because we custom-design the retreat for each individual or couple. The retreats aren't cookie cutter. We spend a lot of time really talking to people before they come, to really get an idea of what's happening and what they want to have happen, and then we custom design the retreat based on their needs and desires. We work with a network of over 50 of Sedona's most advanced and experienced healers, and our clients work with them in private one-on-one (or two-on-one) sessions, not in groups. Using our Proven Process and with this custom design and private approach," Stangl said, "I'm still amazed at what happens even after 17 years and thousands of people."
The free retreat guides are available at no cost or obligation. You can request a copy here.
You can reach Sedona Soul Adventures in Sedona, Arizona at 928-204-5988 or on their website http://www.SedonaSoulAdventures.com.
Debra Stangl is also the author of the #1 International Best Selling Book "The Journey To Happy - How Embracing The Concept That Nothing Is Wrong Can Transform Your Life."