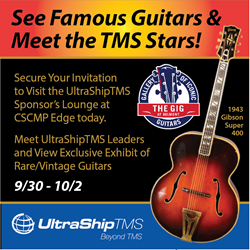 "We're looking forward to meeting with shippers and consultants attending the EDGE event to make personal connections and to share all the exceptional innovations and advances we've been making in supply chain logistics process automation"
FAIR LAWN N.J. (PRWEB) August 06, 2018
UltraShipTMS is underwriting the EDGE Sponsor's Lounge at the Council for Supply Chain Management Professionals' annual event and using the space to host a "See Famous Guitars and Meet the TMS Stars" promotion.
Providing a quiet meeting space adjacent to the main event floor, the Sponsor's Lounge will offer light refreshments, internet-ready computer terminals, and an exclusive, private exhibit on loan from Nashville's Gallery of Iconic Guitars. The exhibit, only accessible by lounge visitors, will display half a dozen rare and iconic guitars like those played by Nashville recording legends such as Earl Scruggs, Johnny Cash, Scotty Moore (Elvis' guitarist), Dolly Parton and others.
Those attendees logging an appointment to meet with the UltraShipTMS leadership team in the Sponsor's Lounge will also receive a complimentary pair of tickets to the Gallery of Iconic Guitars (GIG) at Belmont University. The GIG is a new facility recently built to house a multi-million dollar collection of rare and vintage stringed instruments and is curated by renowned Nashville guitar expert and collector, George Gruhn.
"We're looking forward to meeting with shippers and consultants attending the EDGE event to make personal connections and to share all the exceptional innovations and advances we've been making in supply chain logistics process automation" says Anthony Vitiello, director of marketing for UltraShipTMS who will be one of the UltraShipTMS team members hosting the lounge. Vitiello continued, "Nashville is a town rich in music heritage and we're grateful to the GIG and George Gruhn for agreeing to share these iconic instruments with our invited guests."
The Sponsor's Lounge will be open Monday and Tuesday, September 1st and 2nd with the guitars on display both days. Those shippers and consultants wishing to meet the UltraShipTMS, view the guitars and get a pair of tickets to the GIG should secure a meeting time by registering here.
The CSCMP EDGE event brings leading providers of logistics and transportation management solutions together with top practitioners of supply chain management at the annual EDGE event presented by the CSCMP. The multi-day event, scheduled this year for September 30 through October 3rd at the Gaylord Opryland resort and event center in Nashville, focuses on building partnerships that drive strategic growth for supply chains.