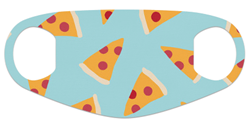 LOS ANGELES (PRWEB) August 06, 2020
See Worthy Patches is partnering with Eye Power Kid's Wear to celebrate amblyopia awareness month with a collaboration on matching eye patches and protective face masks. August marks amblyopia awareness month and is a reminder of the need for annual screenings to detect amblyopia risk factors in children too young for visual sharpness tests. Amblyopia is the number one cause for childhood vision loss, though treatment is effective if the condition is detected early enough.
With school scheduled to start back up next month, the two companies partnered to produce a trendy, protective mask to help in the fight against coronavirus— and to complement and match current styles from the current See Worthy collection. Kids that wear patches already struggle with bullying and feel different from other kids. See Worthy Patches and Eye Power Kid's Wear have learned a stylish patch yields more self-confidence. Fun and creative designs on See Worthy Patches' website range from pizza and watermelon to unicorns and palm trees.
See Worthy Patches' founder, Paige Brattin, became passionate about patching when her daughter was diagnosed with amblyopia. She realized during her daughter's treatments that patches could be improved stylistically and functionally. She dedicated three years to developing more comfortable, creative patches that are visually appealing to kids -- insisting her product is the first that kids will actually want to wear.
"With approximately 3% or 1 in 45 children effected by amblyopia, one would imagine there would be more familiarity with it. The only proven treatment is to wear a patch. But many families are burdened by the stigma of patch wearing in public, so either do it at home or not at all," says Brattin. She goes on to share that her original goal with See Worthy Patches was to "not only create a patch that was more comfortable and easier to wear, but to also promote amblyopia awareness. We want to normalize patching. If children feel its ok to wear patches, their compliance will increase - thus saving their vision."
Eye Power Kid's Wear was founded in a very similar fashion by founder Jessica Butler. Her son Scott was born with a congenital cataract, leading to surgery at just 4 weeks old. He has worn a contact lens, glasses and an eye patch for seven years. Butler now has four kids with vision impairments, including myopia, amblyopia and the congenital cataract.
Both companies will participate in patch and mask giveaways throughout August to create awareness around amblyopia. Brattin is on the board for Project Vision Hawaii and volunteers for the Lions club at local elementary school vision screenings. She structured her company so that a portion of its proceeds go toward these causes and has worked tirelessly on creating awareness around the condition.
Pre-orders will launch on August 3 with collaborations on the Pizza, Unicorn, Palms and Pirate Ship patches and masks. Customers can purchase the eye patches and matching masks on See Worthy Patches' website. The masks will solely be available on Eye Power Kid's Wear's online store.
###
About See Worthy Patches
See Worthy Patches was founded in 2015 to provide children with more comfortable, stylish eyewear to protect against abnormal visual development. The Hawaii-based company is dedicated to amblyopia awareness and giving back to early detection vision screening programs. The patch has a new ergonomic shape, innovative, breathable materials and fun to wear designs. For more information on See Worthy Patches, please visit seeworthypatches.com.
About Eye Power Kid's Wear
Eye power kid's wear creates wearable fashion products for kids and adults to make eyeglasses and eye patches cool. Eye Power Kid's Wear has an eye care collection, glasses collection, eye patch collection, accessories and more. For more information on Eye Power Kid's Wear, please visit eyepowerkidswear.com.